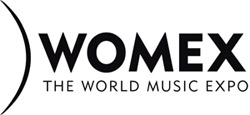 Berlin, Germany – The WOMEX press office announced an unexpected 4th set of world music showcases. Even though WOMEX had previously announced that the list of artists scheduled to showcase at the 2005 conference was complete, new names have been added. The concerts will be staged at WOMEX 2005 in Newcastle Gateshead (UK), October 26 – 30, 2005.
The remaining of the 44 official WOMEX 2005 Showcase acts: Cherifa (Morocco)
DJ Floro (Spain)
Eliseo Parra (Spain)
Jagwa Music (Tanzania)
Mostar Sevdah Reunion and Ljiljana Buttler (Bosnia Herzegovina)
Nder & Le Setsima Group (Senegal)
Nitin Sawhney (UK)
Sarr & Soul (DJs) (Senegal/Rwanda/UK)
Spakka (Naples, Italy)
Spanish Harlem Orchestra (Puerto Rico/USA)
Tengir-Too (Kyrgyzstan)
Artists previously confirmed:
Actores Alidos (Sardinia/Italy) – Sardinian female Polyphony
David Krakauer (USA) – Klezmer
Erik Marchand Quartet – Unu, Daou, Tri, Chtar ! (Serbia/Romania/France) – Gypsy heart & Breton soul
Fiamma Fumana (Italy) – The Folk of Emiglia Romana goes global
Julien Jacob (Benin/France) – Afropop
Kevin Johansen & The Nada (Argentina) – Rock
Les Boukakes (France) – Rock 'n' Raï
Mariem Hassan (West Sahara/Spain) – Desert blues
Maurice El Medioni (Algeria/France) – Arabic piano
Miquel Gil (Spain) – Mediterranean songs meet world music
Mitsoura (Hungary) – Contemporary Gypsy
Pedro Luis Ferrer (Cuba) – Guaracha
The other artists previously confirmed are:
Atongo Zimba (Ghana/UK) – 21st century Afro Fusion
Aziz Ibrahim (Pakistan/UK)
Babar Luck (Pakistan/UK)
Dele Sosimi (Nigeria/UK) – Afrobeat
DJ Aki Nawaz (Pakistan/UK)
Flook (Ireland/UK) – Celtic
Genticorum (Canada) – Québecois
Samwad (India) – Classical East Indian Jugalbandhi, http://www.kalaramnath.com &
http://www.purbayan.com.
The Nasha Experience (UK)
Unusual Suspects (Scotland)
Vusi Mahlasela (South Africa)
Debashish Bhattacharya (India)
The Chéhadé brothers (Palestine/Lebanon)
Tiken Jah Fakoly (Ivory Coast/France)
Marcelo D2 (Brazil)
Hermeto Pascoal (Brazil)
Cristóbal Repetto (Argentina)
DJ Scratchy (UK)
DJ Shantel (Germany)
Thandiswa (South Africa)
Wang Lei (China)
Author:
World Music Central News Department
World music news from the editors at World Music Central