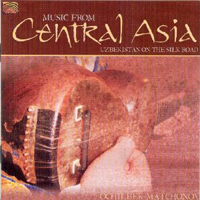 Ochilbek Matchonov
Music From Central Asia: Uzbekistan on the Silk Road (ARC Music EUCD 1946, 2005)
Music from the Silk Road regions and countries ending in "stan" has been getting a lot of notice lately. Maybe it's something to do with the emergence of those places after the fall of the Soviet Union or a greater desire to understand the various cultures of the Muslim world.
The liner notes of this album by blind singer and tor (lute) player Ochilbek Matchonov mention the particular pan-Islamic feel of Uzbek music, and given the fact that my office mate walked in while this CD was playing and asked if it was Arabic, I'm inclined to agree. And it's that monophonic, microtonal quality that I like- the tart, hair-raising feel as voice and instruments including the gijjak (spike fiddle), kushnay (double clarinet) and doira (frame drum) wail their way through songs that can be all manner of spiritual or secular in nature. It's the former that gets the lion's share here, since the longest of the 7 tracks is the 39-minute "Thanks be to God."
What you won't find here is anything electronic or contemporary-sounding. Rather, this album draws upon the dual traditions of Uzbek folk and "art" (classical) music, based upon distinct structural modes and powered by Matchonov's lung-busting singing and the equally intense instrumental accompaniment. If you're interested in uncompromising Central Asian music that goes for the gut, this one's for you.
Buy
Author:
Tom Orr
Tom Orr is a California-based writer whose talent and mental stability are of an equally questionable nature. His hobbies include ignoring trends, striking dramatic poses in front of his ever-tolerant wife and watching helplessly as his kids surpass him in all desirable traits.