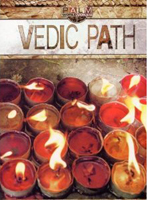 Pioneering Producer Chris Blackwell (who helped make an international star of Bob Marley years ago) recently cemented a new partnership between his own Palm Pictures label and Universal Music Enterprises. The resulting collaboration, Palm World Voices, has taken on an ambitious first project- a combination CD and DVD set celebrating the sounds and visions of India. And while such a musically and culturally rich place can hardly be summed up in one neat package, Blackwell and Universal have succeeded in creating something quite stunning here.
Vedic Path (named for the course upon which personal and universal existence move along in a cyclic manner according to Hindu tradition) aims to be both educational and entertaining. To that end, the liner notes are extensive and informational without being stuffy and a detailed illustrated map provided by no less an authority than the National Geographic Society is included.
Not knowing as much as I ought to about India, I found it helpful to bone up with the liner notes and map before moving on to the music. Ah yes, the music- a very strong selection it is, ranging from the traditional stylings of familiar folk like Ravi Shankar to more fusion-minded stuff that brings in non-Indians like Dissidenten and John Wubbenhorst alongside such greats as . R. Rahman, Asha Bhosle and Sheila Chandra.
The DVD includes the same tracks as the CD, only this time with striking visuals of scenic vistas, celebrations on various scales, religious ceremonies, people going about their everyday life and more. A lot of ground is covered, and though it's clear that no one is looking to ignore the fact that India remains beset by poverty and other ills, this admirable box set triumphs in projecting an uplifting, multifaceted picture of a country with a fascinating past and present that's reflected in the music and spirit of its people and its influence on the world.
Buy Vedic Path
Author:
Tom Orr
Tom Orr is a California-based writer whose talent and mental stability are of an equally questionable nature. His hobbies include ignoring trends, striking dramatic poses in front of his ever-tolerant wife and watching helplessly as his kids surpass him in all desirable traits.