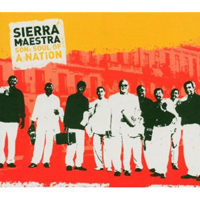 Sierra Maestra
Son: Soul of a Nation (World Music Network/Riverboat Records TUGCD1039, 2005)
No band is better qualified to present an album celebrating the history of Cuban son than Sierra Maestra. They, after all, have been foremost in keeping the style vital and vibrant, even given the ongoing general interest in Cuban roots music.
Son (which is pronounced with a long o, like "sone") was the name given to several convergent types of rural Cuban music by the time radio and recording studios modernized the music industry in the early 20th century, and today son is rightly credited with being a key building block in the development of salsa and other Latin sounds.
From early trio formats to larger ensembles incorporating more intricate use of percussion, vocals and trumpet, some of Cuba's most famed singers and composers made son's combination of Spanish-tinged melodies and African-rooted rhythms their own. With Son: Soul of a Nation, Sierra Maestra celebrate the work of greats like Beny Moré, Arsenio Rodríguez and Ignacio Piñeiro along with musical developments such as dance-oriented son montuno and the bolero and trova formats that stressed more of a ballad feel. But regardless of the offshoots, this is a warm and wonderful selection of songs from decades past, recorded in Havana and moving easily from sparse testimonials and social commentary to brassy, hip-shaking blasts.
Acoustic guitar, tres and bass provide a latticework of melody, crackling percussion guides and punctuates and vocals polished to rustic perfection intone the greatness of the old masters. If son is indeed the soul of Cuba, then Sierra Maestra are the heartbeat at the center of that soul.
Author:
Tom Orr
Tom Orr is a California-based writer whose talent and mental stability are of an equally questionable nature. His hobbies include ignoring trends, striking dramatic poses in front of his ever-tolerant wife and watching helplessly as his kids surpass him in all desirable traits.