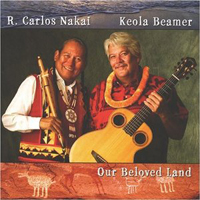 Keola Beamer and R. Carlos Nakai
Our Beloved Land (Canyon Records CR 7071, 2005)
R. Carlos Nakai, master of the Native American flute, has done it again. After collaborating with more artists in more categories of music than I'm going to even bother to try listing, he has now teamed with Hawaiian slack key guitaristKeola Beamer.
The slack key style is characterized by often highly individualized approaches to coaxing sounds out of loosened guitar strings. It's generally accepted that no two slack key guitarists play quite the same and that Beamer is one of the very best.
The pairing of slack key guitar with Native American flute is an inspired one- both instruments are capable of expressing a quirky yet ethereal sense that can be deeply meditative, keenly uplifting or various points in between.
Beamer and Nakai deepen the connection by bringing in additional players from Hawaiian and Native traditions, including percussionists Moanalani Beamer (wife of Keola) and Tony Redhouse.
Though nearly every song has Hawaiian origins (most are traditional ones arranged by Beamer), the right sort of cultural duality is evident throughout as Nakai's airy, melancholy flute caresses Beamer's similarly pensive guitar and vocals.
Counterpoint to Nakai's ever-dependable playing is sometimes provided by Hawaiian nose flute (now there's an instrument for ya), just as Beamer's balm-like riffing is bolstered here and there by the twang of a mouth bow (which I assume is synonymous with or something like a Jew's harp). Most of the tempos are slow and almost somber-sounding, even when gourd drums and further percussions are involved, so don't latch onto this album expecting a party that's equal parts luau and pow-wow. Expect instead a work of delicate beauty that's sonically akin to to coming across a rainforest in the middle of the Sonoran Desert.
Slip Our Beloved Land into your CD player, lay back, and let these two virtuosos of their respective instruments quietly work their magic into you.
Buy Our Beloved Land
Author:
Tom Orr
Tom Orr is a California-based writer whose talent and mental stability are of an equally questionable nature. His hobbies include ignoring trends, striking dramatic poses in front of his ever-tolerant wife and watching helplessly as his kids surpass him in all desirable traits.