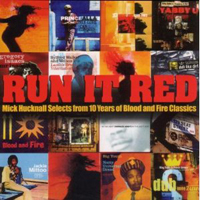 Blood and Fire All Stars
Run it Red (Blood and Fire BAFCD 047, 2005)
Mich Hucknall, frontman for the U.K. soul/pop band Simply Red, didn't show his passion for vintage reggae much in his own music. Instead, he did so by co-founding Blood and Fire, possibly the greatest reggae reissue label in the world today.
From its start, Blood and Fire was committed to making certain that those artists and producers who created the music originally were fairly compensated for their work, a courtesy not always afforded them in Jamaica or elsewhere. Plus, the reggae that Blood and Fire continues to release is some of the dreadest, most crucially epochal stuff ever.
Run it Red is 20 tracks selected by Hucknall from the Blood and Fire catalog, each one a potent shot of ageless reggae excellence. Hucknall obviously has a particular penchant for dub tracks mixed by the late great King Tubby, since an abundance of such are included here. Also among the pickings are
choice cuts by crooner Gregory Isaacs, keyboard whiz Jackie Mittoo, chanting master Big Youth and spirited offerings by more obscure talents like Prince Alla and Sylford Walker.
Not only does this collection deliver the goods generously, it does so at a budget price (like previous Blood and Fire samplers). If you haven't yet checked out the peak-era reggae and dub this label has to offer, here's your perfect point of entry.
Buy Run it Red
Author:
Tom Orr
Tom Orr is a California-based writer whose talent and mental stability are of an equally questionable nature. His hobbies include ignoring trends, striking dramatic poses in front of his ever-tolerant wife and watching helplessly as his kids surpass him in all desirable traits.