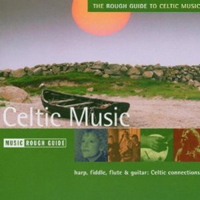 Various Artists
The Rough Guide to Celtic Music (World Music Network 1155 CD, 2005)
Most folks know by now that "Celtic" and "Irish" are not synonymous. Still, it doesn't hurt to get an occasional reminder that ancient Celt tribes settled all over Europe, establishing a culture that paved the way toward the Celtic music that has become so well known. This Rough Guide includes sounds from Canada, Spain, France, Scotland, the USA, Wales and, oh yes, Ireland. Quite a sharp selection it is, rife with artists who embrace tradition as well as those who nudge it just a bit and those who really take it and run with it.
Ireland's Kila and Scotland's Capercaillie, for example, have long specialized in spurring Celtic foundations along with added global textures and grooves, and both have solidly representative tracks here.
Likewise, Shooglenifty (also from Scotland), Galicia's Mercedes Peón and sprightly Cape Breton fiddler Natalie MacMaster show how effectively varying degrees of modern electronic textures can judiciously be thrown in.
More along purist lines are pieces by Llan de Cubel, Bohola, Niamh Parsons (with an a capella song guaranteed to make the world around you stand still) and relative newcomers Flook, but everything here is really quite good.
With some strains of Celtic music having reached and seemingly passed something of a trend-fueled saturation point on the global scene, it's still refreshing to revisit how uniquely satisfying the wider-ranging sound of it can be. Whether this disc comes across like a new revelation or an old friend, it's consistently pleasing.
Buy The Rough Guide to Celtic Music
Author:
Tom Orr
Tom Orr is a California-based writer whose talent and mental stability are of an equally questionable nature. His hobbies include ignoring trends, striking dramatic poses in front of his ever-tolerant wife and watching helplessly as his kids surpass him in all desirable traits.