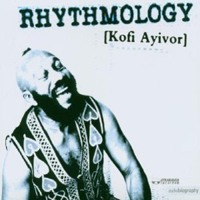 Kofi Ayivor
Rhythmology (Otrabanda Records OTB 06, 2004)
Devotees of percussion-drenched African grooves who listen to this CD will probably wind up feeling just as joyous as master drummer Kofi Ayivor looks on its cover. Born in Ghana in 1939, Ayivor quickly learned the drumming traditions of his Ewe tribal heritage.
While still a youth he began playing in highlife bands (including that of the legendary ET Mensah) before hooking up with noted Afro-rock band Osibisa and applying his deft, tasty touch to collaborations with musicians in various mediums.
Rhythmology is a groove feast, amply showing Ayivor's punch-packing might on assorted hand percussions as well as drum set. The tracks date from 1979 onward and are a wide-ranging bunch that includes traditional workouts, jazz and funk mixups, infectious dance numbers, Latin and Caribbean leanings and some intriguing fusion pieces where Ayivor lays it down with Indian, Greek and Hungarian musicians as well as some mystical didgeridoo.
If there's a common thread to be heard it's the fact that in addition to being a highly skilled and gracious player, Ayivor was and is very much an innovator, able to give an additional kick to music of many stripes and types. There's an African pulse flowing through everything on this celebratory disc, but it's music that clearly wants to set the rest of the world dancing as well. So dance, play along, or simply listen. It's a first-rate party to which all are invited.
Buy Rhythmology
Author:
Tom Orr
Tom Orr is a California-based writer whose talent and mental stability are of an equally questionable nature. His hobbies include ignoring trends, striking dramatic poses in front of his ever-tolerant wife and watching helplessly as his kids surpass him in all desirable traits.