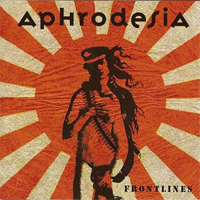 Aphrodesia
Front Lines (Full Cut Records [no number], 2005)
Loaded with bedrock percussion, blazing horns, nervously riffing guitars, funky bass and no-pussyfooting vocals, the sound of Aphrodesia owes more than a passing nod to late Afrobeat king Fela Kuti (they even reconfigure Fela's "No Agreement" on this, their second album). Works for me, but Aphrodesia also go for a good time party sound without relying strictly on the focused cynicism that often marks the Afrobeat style. "Trouble, don't come my way," cautions lead singer Lara Maykovich at one point, and though the band does take hard-grooving swipes at government ineptitude, environmental decay and general stupidity, they want to move your body as well as open your mind. They also want to go their own way sonically, so they take the liberty of throwing in some zurna (Turkish clarinet) soloing, uncharacteristic strings and acoustic guitar, dollops of highlife-style riffing, etc. And, as on their debut disc Shackrobeat Vol. 1, there's a nice mbira-led song that cools the fever to the right degree. Front Lines is a bit more of a pure energy jolt than Aphrodesia's first one, bolder and more uncompromising in the political and social stances it takes while showing both the serious and fun sides of the band. (And if the inner tray photo is any indication, their live shows must be downright freaky at times.)
Fans of Fela, Antibalas, Akoya and Afrobeat in general will want this potently punchy and satisfying piece of work as well.
Available at aphrodesia.org
Author:
Tom Orr
Tom Orr is a California-based writer whose talent and mental stability are of an equally questionable nature. His hobbies include ignoring trends, striking dramatic poses in front of his ever-tolerant wife and watching helplessly as his kids surpass him in all desirable traits.