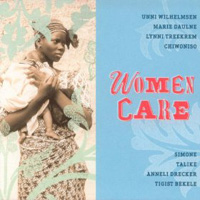 Multiple Artists
Women Care (Kirkelig Kulturverksted, 2005)
With an energized emphasis on the plight of Africa, it's a shame U2's Bono and Live 8's Bob Geldof in the course of their charitable efforts for the continent have avoided incorporating a full roster of African musicians into their musical ventures. Lucky for us Norwegian label Kirkelig Kulturverksted has taken up the challenge, pairing eight women artists from north and south in producing the CD Women Care. In association with CARE Norge, a member of the humanitarian organization CARE International, producer Sigbjørn Nedland has fashioned the collective experience of African women rights into a musical collage by and about the women themselves.
With an ear finely tuned into the soul of the African woman, and to women everywhere, Women Care is a powerful, shockingly honest musical landscape of sorrow and longing, as well as joy and respectful reverence to the women who have come before us. Thinking this CD is just one more collection of flaky, feminist singer-songwriters couldn't be further from the truth. It's filled with razor sharp lyrics, elegant vocal constructions and a talented band of musicians from Tanzania.
This cross-cultural meet pairs Unni Wilhelmsen, Anneli Drecker, Simone and Lynni Treekrem with Zimbabwe's Chiwoniso Maraire, Marie Daulne from the Democratic Republic of Congo/Belgium, Talike from Madagascar and Tigist Bekele from Ethiopia. Except for a handful of songs, the women on this CD wrote most of the music and the lyrics as well as the intricate vocal melodies.

The CD begins with the gentle "African Woman" written and sung by Chiwoniso Maraire, who also plays the mbira in the piece. Backing up Chiwoniso on vocals is Lynni Treekrem's ethereal voice, making the song soar.
Simone Larsen beautifully works both her music and lyrics on "Talking Hands" that possesses some fine playing by Norman Bikaka on guitar, Anania Ngoriga on kalimba, Keppy Kiombile on bass guitar, Esrom Rudala on ngoma and Salum Kumpenka on jembe, but it's Talike background vocals and throat percussion that makes the piece.
Fans might know Marie Daulne from Zap Mama. Marie's vocals, along with Unni Wilhemsen's, on "Mali Sista!" incorporated with Marie playing the bottles bridges both north and south in perfect harmony.

"Dis-Moi: Oui! Oui!," written and sung by Talike with backup vocals by Simone, is ripe with the African rhythms of kalimba, ngoma and djembe. With lyrics "No longer do I want to be a submissive wife / Only I decide when to take off my blouse and my briefs" the song is also ripe with passion about the truth of a woman's desire and her ability to chose for herself.
One of the stand-out pieces has to be Marie Daulne's "For the Blues" about female mutilation. Marie's vocals are joined by Unni's vocals and Witness Mwaijaga on a rap section. The music and the vocals might be seductive by the lyrics are pure protest.

Unni Wilhemsen and Marie Daulne's version of Tracey Chapman's "Fast Car" is noteworthy for the spare loveliness Unni and Marie's vocals and Marie's bottle playing. It charms.
Women Care ends on a hopeful note with the vocals of Anneli Drecker, Tigist Bekele, Unni Wilhelmsen, Marie Daulne and Kesia Quental on Chiwoniso Maraire's and Marie Daulne's "And Endless Chain of Mothers African Woman 3."

Fans will not only enjoy the music but the included booklet with a complete set of lyrics and some remarkable photographs of artist and everyday African women. Included in the packaging is a fact sheet put out by CARE Norge containing facts like "75% of all illiterates are women" and "Only 10% of all wages go to women." CARE and Kirkelig Kulturverkstead also give the listener a chance to make a change in a woman's life by providing CARE organization's information on donating to the cause.
With so many politicians and celebrities taking a turn on the see-me-talking-about-Africa tour, it's nice to be reminded that African women have their own voice – and what a voice that is.
buy Women Care
Author:
TJ Nelson
TJ Nelson is a regular CD reviewer and editor at World Music Central. She is also a fiction writer. Check out her latest book, Chasing Athena's Shadow.
Set in Pineboro, North Carolina, Chasing Athena's Shadow follows the adventures of Grace, an adult literacy teacher, as she seeks to solve a long forgotten family mystery. Her charmingly dysfunctional family is of little help in her quest. Along with her best friends, an attractive Mexican teacher and an amiable gay chef, Grace must find the one fading memory that holds the key to why Grace's great-grandmother, Athena, shot her husband on the courthouse steps in 1931.
Traversing the line between the Old South and New South, Grace will have to dig into the past to uncover Athena's true crime.