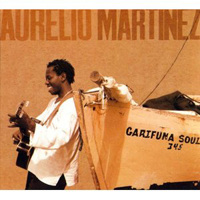 Aurelio Martinez – Garifuna Soul (Stonetree Records STR026, 2004)
Leroy Young The Grandmaster – Just Like That… (Stonetree Records STR025, 2003)
Fond though I am of Central American Garifuna music, I missed out on these discs when they were
first released. A terrible oversight as it turns out, because both are superb examples of what Belize and Honduras have to offer.
The Garifuna people of Central America are torchbearers of a musical style called paranda [also known as parranda], which, like the African/indigenous heritage of the Garifuna themselves, is an intriguing mixture. The lively percussion pulse of paranda (provided by hand drums, shakers and struck turtle shells) is as distinctly African as can be, while the acoustic guitar accompaniment and passionately
poured out vocals take on something of an Afro-Latin air. But a written description hardly does the music justice.
The sound of paranda is dang near irresistible- so beautifully simple, so untouched by commercialization, so instantly appealing to the heart and hips -that it feels fresh every time you hear it. Aurelio Martinez is a young Garifuna from Honduras who participated in the various-artists 1998 release Paranda: Africa in Central America (also on Stonetree), and his own album Garifuna Soul is a sweetly rousing selection of songs laced with layered percussion, conversing guitars and gutsy singing occasionally jazzed up by a bit of sax or electric textures.
Several notable world music journalists singled out this disc as one of 2004's best, and one
spin will tell you why. It absolutely sparkles from start to finish. Very highly recommended.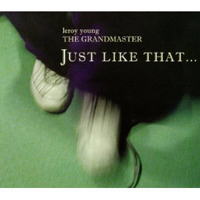 Considerable critical acclaim was also justifiably poured on the debut disc by Leroy "The Grandmaster" Young, a denizen of Belize though not one who leans toward the paranda style. A wiry, intense dreadlocked figure, he bears a physical and musical resemblance to such Jamaican dub poets as Mutabaruka.
His vocal style is a hybrid (in accented English) of speaking, chanting and semi-singing, and he does so over arrangements heavy on percussion, guitars and sampled sounds like city streets and speechifying politicians. And once again, this is something you just gotta hear. It's equal parts Africa, the blues and dry rhythmic cadences that bring out the essence of The Grandmaster's poetic ruminations on race, corruption, relationships and more (kudos to Ivan Duran, who composed the raw but rich music that goes so well with Young's verses).
Often serious though frequently wryly humorous, Just Like That… is a uniquely impressive combination of word, sound and power.
Author:
Tom Orr
Tom Orr is a California-based writer whose talent and mental stability are of an equally questionable nature. His hobbies include ignoring trends, striking dramatic poses in front of his ever-tolerant wife and watching helplessly as his kids surpass him in all desirable traits.