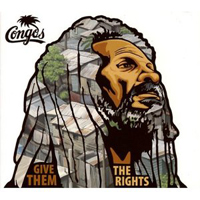 The Congos – Give Them the Rights (Young Tree Records YTR-1221CD, 2005)
Andrew Bassie Campbell – Mr. Bass Man All Stars (Young Tree Records YTR-1224CD, 2004)
Pablo Moses – Pave the Way + Dubs (Young Tree Records YTR-1222CD, 2004)
Young Tree Records, the label begun by renowned American reggae band Groundation, has obviously got the goods to be an ongoing potent force in reggae if these three releases are any indication. In 1977 the vocal duo known as the Congos put out one of reggae's greatest albums, the Lee Perry-produced Heart of the Congos (rereleased in crucial expanded form by U.K. label Blood and Fire in 1996). It's almost a given that they'll never equal that landmark work, but the new Give Them the Rights shows plenty of fire and may be the best album to bear the Congos' name in the last quarter century.
Lead singer Cedric Myton retains an urgent falsetto-straddling vocal style, and though on-and-off-again Congos members Roy Johnson and Watty Burnett are not present, a battery of backup singers picks up the slack. Every song is a conscious winner, adding up to a fervent selection of pure reggae played by some of Jamaica's most noteworthy musicians (including Sly and Robbie, Chinna Smith, Robbie Lyn, Dean Frazer and too many more to mention), and showing that Groundation's use of Myton as a guest vocalist on some of their own recordings was no fluke. This is killer reggae, plain and simple.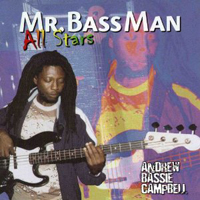 Bassist and producer Andrew Joseph Campbell has assembled a solid cast of skilled singers and chanters for the Mr. Bass Man All Stars disc, a rough and rousing combination of roots and dancehall. Again, a distinguished cast of musicians is involved (giving the dancehall-leaning selections in particular a genuineness that computerized rhythms can't touch) and the performances are consistently strong.
Roots and cultural concerns are voiced by the likes of Denton "Screechy" Lowe, Jolly Stewart, and the interestingly named Errol "Organs" Anderson, King David covers matters of the heart and spirit on several tracks including the deep nyabinghi meditation "Mount Zion I," and closing selection "Jimmy Meets Andrew" nices out as a melodica-laden instrumental. An impressive and wide-ranging selection all around.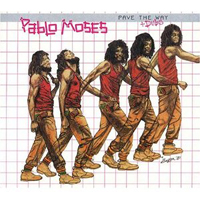 If you prefer a potent blast from reggae's past, you're in luck. Young Tree has also rereleased the 1981 gem Pave the Way by the seldom-heard-from-these-days Pablo Moses. In his prime, Moses was an innovative rootsman who made reggae laced with restrained techno and synthesizer touches that didn't distract from his layered, intricate songs and mystical vocal style.
Pave the Way + Dubs was and is a deep, pensive reggae album full of uncompromising songs like "Proverbs Extractions," "Last Straw" and "Africa is for Me." The superb sound achieved by original producer Geoffrey Chung (now deceased) remains cutting edge, and let's be thankful that Pablo Moses himself saw fit to bring the original master tapes to veteran reggae recording engineer Jim Fox for remastering and transfer to CD format. An absolute must-have for reggae lovers, made even better by the fact that a second disc of dub versions is included.
Author:
Tom Orr
Tom Orr is a California-based writer whose talent and mental stability are of an equally questionable nature. His hobbies include ignoring trends, striking dramatic poses in front of his ever-tolerant wife and watching helplessly as his kids surpass him in all desirable traits.