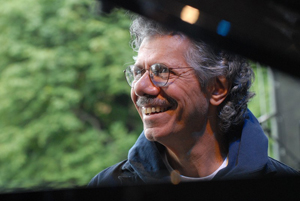 New York, NY, USA – Don't miss An Evening with Chick Corea & Touchstone featuring Tom Brechtlein (drums), Carles Benavent (bass), Jorge Pardo (sax/flute) and Rubem Dantas (percussion) on Thursday, June 16. With the core members of the renowned flamenco guitarist Paco de Lucia's band, Chick revisits the heart of his Spanish-influenced compositions from his classic Touchstone
album and continues his flamenco-based explorations with new music for this stellar quintet. Throughout his four-decade career, he has constantly sought inspiration from his Castilian heritage. His renowned work, Spain, was drawn from his roots, and to this day, remains a strong foundation among his musical offerings.
Corea captured the music of his group Origin on the albums Live at Blue Note and a six-disc set, A Week at the Blue Note.
He recently presented the return of his Elektric Band and music from his new CD, To the Stars, to sold-out crowds around the world.JVC Jazz Festival – New York wraps up its series at Rose Theater with Michel Camilo: Solo, Duo & Trio on Friday, June 17. The dynamic Dominican pianist presents his music in three figurations with the Michel Camilo Trio featuring Charles Flores (bass) and Dafnis Prieto (drums) with special guest David Sanchez (saxophone). Equally renowned as a composer, Camilo's works have been performed and/or recorded by artists ranging from Dizzy Gillespie to the Manhattan
Transfer. His diverse resume includes performances with symphony orchestras around the world, compositions for films and collaborative projects with Paquito D'Rivera, Katia, Marielle Labeque and other entertainment greats. He recordedLive at the Blue Note in 2003, his first live album as well as his first record with a Cuban rhythm section. The two-CD set scored a Grammy for Best Latin Jazz Album. His debut solo piano album, Solo, was released in January and features Brazilian music, jazz standards and original compositions, further showcasing his diverse talents and exuberant technique.
Kicking off the Rose Theater series on Tuesday, June 14, is 100 Years and a Day: Doc Cheatham Centennial Jazz Party featuring trumpet stars Nicholas Payton, Clark Terry, Warren Vaché, Randy Sandke, Jimmy Owens and Theodore Croker (Doc's grandson) with Howard Alden (guitar), Chuck Folds (bass & producer of the concert), Jim Galloway (saxophone/clarinet), Jimmy Heath (saxophone), Earl May (bass), Benny Powell (trombone), Catherine Russell (vocals), JVC Jazz Festival producer George Wein (piano), Frank Wess (saxophone), Jackie Williams (drums) and WKCR announcer and jazz historian Phil Schaap as host of the evening's festivities.
Adolphus Anthony "Doc" Cheatham, born June 13, 1905, didn't have to toot his own horn; he had a ton of friends to do that for him and from the looks of the line-up turning out to celebrate what would have been his centennial year, his memory and music remain cherished. His sense of humor, debonair style and stellar technique made him a favorite of fans and musicians alike. In fact, some say that he didn't reach his true stride until he was in his 70s; and 20 years later, he played with a range, power and total confidence of trumpeters half his age. He suffered a stroke just 11 days shy of his 92nd birthday and shortly before then, he would let loose with some notes that made even his closest
friends stand back and wonder. His discography includes Doc Cheatham & Nicholas Payton in 1994, Swinging Down in New Orleans in 1995 and Live at Sweet Basil in 1996. He shared the stage and recorded with some of the best, and it's no surprise that so many friends will celebrate the master at Rose Hall.
Piano Masters Salute Piano Legends: Celebrating Ellington, Evans, Han*censored* & Monk, produced in association with Mark Morganelli & Jazz Forum Arts, takes over Rose Theater on Wednesday, June 15, featuring Geri Allen, Kenny Barron, Uri Caine and Randy Weston performing on a 9-foot Steinway Grand Piano in solo as well as trio format with bassist Ray Drummond and drummer Al Foster. The incomparable Randy Weston will salute Duke Ellington and Geri Allen will pay tribute to Herbie Han*censored*. Uri Caine will celebrate the music of Bill Evans while Kenny Barron will honor Thelonious Monk, whose music Barron featured with his legendary quartet Sphere.
Allen grew up in Detroit and earned a degree in jazz studies from Howard University and a master's degree from the University of Pittsburgh. Moving to New York City, she performed with Betty Carter, Oliver Lake, Mal Waldron, and Charles Lloyd. Allen's first major label release was 1992's Nurturer. In 1996 she was the first woman to win the coveted Danish Jazzpar prize. Her first new CD in six years, Life of a Song, features Dave Holland and Jack DeJohnette. Barron played professionally as a teenager in Philadelphia. At 19, he moved to New York, played with Dizzy Gillespie for five years, then with Freddie Hubbard, Stanley Turrentine, and Yusef Lateef. The '80s saw the birth of the quartet Sphere with Buster Williams, Ben Riley, and Charlie Rouse. Fifteen years after Rouse's death, Sphere reunited in 1998 with saxophonist Gary Bartz. A five-time Grammy nominee, Barron released the quintet album Images in 2004.
Uri Caine, another Philadelphia native, began playing with jazz greats Philly Joe Jones, Hank Mobley, and Mickey Roker. While at University of Pennsylvania, he played with Freddie Hubbard, Joe Henderson, Benny Golson, J.J. Johnson, and Stanley Turrentine. Caine has recorded 15 CDs as a leader and has arranged and recorded the music of Mahler, Wagner, Beethoven, Schumann, and Bach's "Goldberg
Variations." His most recent release is 2004's trio CD Live at the Village Vanguard. Weston was born in Brooklyn and spent the '40s and '50s hearing jazz giants Count Basie, Art Tatum, Duke Ellington and Thelonious Monk. The first of his 47 recordings as a leader was 1954's Cole Porter in a Modern Mood. In the '50s, playing with Cecil Payne and Kenny Dorham, the 6'8" Weston wrote many of his best loved tunes, including his greatest hit, "Hi-Fly." Moving to Africa in the late '60s, he settled in
Morocco, where his music absorbed the vast rhythmic heritage of Africa. His latest CD is 2003's Spirit the Power of Music.
Tickets for JVC Jazz Festival concerts at the Rose Theater at Frederick P. Rose Hall are available at the Box Office, Broadway at 60th, (212) 721-6500 or www.jalc.org. For information and a Festival brochure, call (212) 501-1390 or (212) 501-1393 for Group Sales weekdays from 10:00 a.m. – 6:00 p.m. or write JVC Jazz Festival – New York, P.O. Box 1169, Ansonia Station, New York, NY 10023.
For more information, visit the official JVC Jazz Festival – New York website at www.festivalproductions.net.
The Buckingham Hotel (www.BuckinghamHotel.com), located at 101 West 57th Street at Sixth Avenue, is the official host hotel of the JVC Jazz Festival – New York. For the special rate, call (888) 511-1900 and ask for the JVC Jazz Festival Room Block.
JVC, sponsor of JVC Jazz Festivals worldwide since 1984, is one of the world's largest manufacturers of high quality audio and video products.
Author:
World Music Central News Department
World music news from the editors at World Music Central