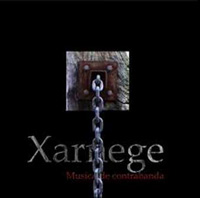 Xarnege
Musica de contrabanda (Xarnege PYR 001-KD)
Xarnege is a band formed by Basque and Gascon musicians from Spain and France. They explore the music of their common past, a land known as Vasconia, which was located around the Western Pyrenees. The group's name, Xarnege, or Sharnègo, is a Gascon word which refers to villages on the Gascony and Basque border in which people express themselves in both Basque and Gascon.
The musicians use a wide variety of acoustic instruments, including hurdy-gurdy, flabuta (Gascon flute), ttun ttun, psaltery, alboka (Basque horn), Gascon bagpipe, caremèra (Gascon horn), txanbela [a.k.a. chanbela] (Basque horn), fiddle, mandolin and bouzouki.
The group plays an intriguing collection of Gascon, Basque, Vascon and Navarran traditional tunes and dances. The overall sound is a mixture of folk music and Medieval influences. The CD booklet is bilingual, with texts in Basque and Gascon.
Author:
TJ Nelson
TJ Nelson is a regular CD reviewer and editor at World Music Central. She is also a fiction writer. Check out her latest book, Chasing Athena's Shadow.
Set in Pineboro, North Carolina, Chasing Athena's Shadow follows the adventures of Grace, an adult literacy teacher, as she seeks to solve a long forgotten family mystery. Her charmingly dysfunctional family is of little help in her quest. Along with her best friends, an attractive Mexican teacher and an amiable gay chef, Grace must find the one fading memory that holds the key to why Grace's great-grandmother, Athena, shot her husband on the courthouse steps in 1931.
Traversing the line between the Old South and New South, Grace will have to dig into the past to uncover Athena's true crime.