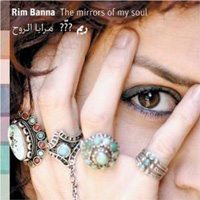 Rim Banna
The Mirrors of My Soul (Kirkelig Kulturverksted, FXCD288, 2005)
From the same folks who brought you Lullabies from the Axis of Evil, Kirkelig Kulturverksted, with support by Norwegian Church Aid, has released Palestinian singer and composer Rim Banna's The Mirrors of My Soul. Fans will recognize Ms. Banna as one of the singers on Lullabies from the Axis of Evil CD where she gained some well deserved attention.
The music composed by Ms. Banna and Leonid Alexeienko, with some adaptations of Palestinian folk songs, has for the most part a jazzy feel with only one track, The Moon Glowed, possessing a real Middle Eastern flair. Fans seeking for a more traditional CD will have to look elsewhere. Rounding out Ms. Banna on vocals is David Wallumroed on piano and keyboards, Gjermund Silset on bass and bass guitar, Eivind Aarseth on guitar, Leonid Alexeienko on acoustic guitar and Rune Arnesen on drums.
Despite the overwhelming jazzy feel of the CD, poppy sounding tunes Malek and The Top of the Mountains and rock feeling The Grandma with a Limp were slipped in between the more lush pieces and derailed the flow more than I would have liked. Listeners shouldn't be discouraged though, because richness of the compositions and the vocals is well worth a listen.
The opening track, The Mirrors of My Soul, along with tracks The Carmel of My Soul and Sarah, a song about the death of a 16 month-old baby in the conflict in Nablus, are the emotional heart of this CD with their charged lyrics about the sorrow and struggle of the Palestinian people. Ms. Banna's silky vocals gliding over the spare compositions and a chunky bass line is when this CD really takes flight. Lyricist Zuhaira Sabagh deserves mention for some really heart wrenching lyrics, translated into English in the liner notes, on Sarah and The Carmel of My Soul.
Dedicated to the Palestinian and Arab detainees in prison, Rim Banna's The Mirrors of My Soul remains an elegant retort to those in the international community who have turned their backs or who haven't been paying attention. Elegant, indeed.
Author:
TJ Nelson
TJ Nelson is a regular CD reviewer and editor at World Music Central. She is also a fiction writer. Check out her latest book, Chasing Athena's Shadow.
Set in Pineboro, North Carolina, Chasing Athena's Shadow follows the adventures of Grace, an adult literacy teacher, as she seeks to solve a long forgotten family mystery. Her charmingly dysfunctional family is of little help in her quest. Along with her best friends, an attractive Mexican teacher and an amiable gay chef, Grace must find the one fading memory that holds the key to why Grace's great-grandmother, Athena, shot her husband on the courthouse steps in 1931.
Traversing the line between the Old South and New South, Grace will have to dig into the past to uncover Athena's true crime.