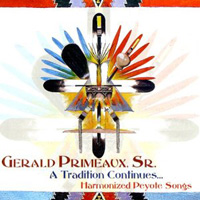 Gerald Primeaux, Sr.
A Tradition Continues… Harmonized Peyote Songs (Canyon Records CR6377, 2004)
On A Tradition Continues… Harmonized Peyote Songs, released on Canyon Records, Gerald Primeaux, Sr. takes the unsuspecting listener on what can only be described as 'The Way,' a way steeped in tradition and filled with the praises to the Great Spirit. This collection of prayers, pleas for going in a good way and blessings is a hypnotic blend of voice, gourd rattle, water drum and sounds of nature.
Mr. Primeaux, a Yankton Dakota singer and songwriter, was born into a revered family of Peyote singers. Here Mr. Primeaux honors and carries on the tradition of Peyote singing passed down by his father, Asa Primeaux, and grandfather, Harry Primeaux. There are several traditional peyote songs and others written by Gerald Primeaux, Sr., Mike Primeaux, Jr. and Paul Brown, who also provides some of the drumming, continuing the Peyote tradition of the constant expanding song repertoire as songs are created and passed on to other communities.
In A Tradition Continues… Harmonized Peyote Songs, Mr. Primeaux's voice soars over the constant driving beat of water drum and gourd rattle. Long tracks are divided into short songs ranging from a song paying homage to the peyote cactus, eaten at religious ceremonies to promote visions, to seeking guidance from the Great Spirit to a song of encouragement. There are healing songs, prayers for elders, the Soldier Boy Song and Alvin's Birthday Song.
Woven into the songs are the sounds of waves, wolves, a thunder storm and other sounds of nature, further transporting the listener into the community of the circle around the campfire. In Mr. Primeaux's Asa's Memorial Song, a blessing of country, family and friends with English lyrics, offers the listener a glimpse into the juxtaposition of the native singing and the translated lyrics.
A Tradition Continues… Harmonized Peyote Songs is an open window into the traditions of the peyote song and to the wealth of Mr. Primeaux's heritage of the peyote singers. The songs unfold and fade with the listener as a welcomed participant in celebration in the winding path of 'The Way.'
Buy A Tradition Continues… Harmonized Peyote Songs
Author:
TJ Nelson
TJ Nelson is a regular CD reviewer and editor at World Music Central. She is also a fiction writer. Check out her latest book, Chasing Athena's Shadow.
Set in Pineboro, North Carolina, Chasing Athena's Shadow follows the adventures of Grace, an adult literacy teacher, as she seeks to solve a long forgotten family mystery. Her charmingly dysfunctional family is of little help in her quest. Along with her best friends, an attractive Mexican teacher and an amiable gay chef, Grace must find the one fading memory that holds the key to why Grace's great-grandmother, Athena, shot her husband on the courthouse steps in 1931.
Traversing the line between the Old South and New South, Grace will have to dig into the past to uncover Athena's true crime.