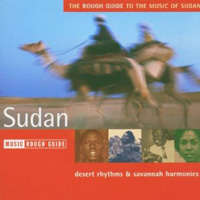 Various Artists – The Rough Guide to the Music of Sudan (World Music
Network RGNET 1152 CD, 2005)
Various Artists – Mali (Putumayo PUT 236-2, 2005)
Various Artists – North African Groove (Putumayo PUT 237-2, 2005)
The music of Africa's Saharan regions is packed with beauty, power and soul in the face of the adversity that sometimes goes hand in hand with the desert's exotic image. Harsh physical and political climates, ongoing ethnic and tribal conflicts, tradition clashing with modernization, poverty and the shadows of Islamic fundamentalism abound to varying degrees, yet the music overcomes.Despite the present tragic situation in Sudan, the rather rickety music industry there has put out some gorgeous stuff. Official restrictions and logistical limitations dictate that many of Sudan's musicians record outside the country, but the sparkling new Rough Guide to the Music of Sudan richly captures the essence of the place. Influences from the Arabic world and the southern Nile regions have helped shape modern Sudanese music, as have longstanding lyric poetry traditions and combinations of ancient and modern instruments.
This Rough guide runs a sizable gamut from lively field recordings to ambitiously funky works by Abdel Aziz el Mubarak, the late Tarig Abubakar and Mohammed Wardi to sparse oud-and-vocal pieces (including one by Muhamed el Amin that has him sounding a lot like Nubian great Hamza El Din). A strong collection that, like all the better Rough Guides, makes you want to investigate further.
Towards the other end of the southern Sahara from Sudan lies Mali, one of the world's poorest countries but well represented (in terms of available recordings) on the global music scene. In fact, the liner notes for Putumayo's new Malian compilation lament the fact that the rights to songs by three of Mali's most famous singers- Salif Keita, Oumou Sangare and Rokia Traore -could not be secured for inclusion. Have no fear, though.
Mali's got plenty of terrific music even without those greats, and a satisfying cross-section of it has been gathered here. Guitar whizzes like Habib Koité and Boubacar Traoré are represented along with a couple of Mali's remarkable female voices (Ramatou Diakite, Mamou Sidibe), the most acclaimed desert blues band on the planet (Tinariwen), the country's current king of techno/traditional mashup (Issa Bagayogo) and more. A darn good sampler even if you already have some Malian discs in your collection and especially recommended for anyone who's heard Malian music raved about but hasn't gotten around to obtaining any. Now's your chance.
Also on Putumayo but not due to hit the shops until next month is North African Groove, the latest in the label's "Groove" series that focuses on modern world music. Similar in feel to their earlier release Arabic Groove, this one features some sharp Algerian rai from Khaled and young expatriate Faudel, emerging artists like Jomed and Rhany who've come up with suave blendings of Saharan and Cuban sounds and further offerings that present the dual cool of desert sands and urban dance floors. Collections from this region often suffer from excess amounts of sugar or cheese, two things largely avoided here. The beats are snappy, the deeper roots are evident and hot tracks by the likes of Amina, Cheb Mami and German fusionists Eastenders teaming with Egypt's Shady Sheha carry things through.
Author:
Tom Orr
Tom Orr is a California-based writer whose talent and mental stability are of an equally questionable nature. His hobbies include ignoring trends, striking dramatic poses in front of his ever-tolerant wife and watching helplessly as his kids surpass him in all desirable traits.