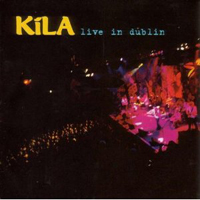 Kila
Live in Dublin (Kila Records KRCD 010, 2004)
Combining familiar Celtic instrumentation, vocals and modes with percussion-laced beats from Africa and beyond, Kila has been described, with some accuracy, as a Celtic jam band. I've always thought they represented various aspects of what I would call true "world" music- a traditional foundation, an adventurous sense of fusion, an equally defined sense of fun and the musical chops to make it all work.
Kila's hometown-crowd performance on Live in Dublin is a spirited one, brimming with an energy no doubt carried over from their busking days on the streets of that very city. They expertly wield many of the sort of instruments you'd expect from an Irish band, including fiddle, uileann pipes, tin whistles, acoustic guitar, bodhran and the like. It's the addition of skin-on-skin drums like the jembe and congas that help give them their unique mixture of ferocity and finesse, along with the joyous, rockish abandon with which they tear into their original repertoire of juiced-up jigs, reels and airs.
In concert, they emerge as as a swirl of homespun splendor and tribal stomp somewhere between the techno edge of Afro Celt Sound System and the organic sizzle of Baka Beyond. Well able to reproduce their layered sound onstage, they expand some of their most memorable songs, like the ambitious title track of their 2003 album Luna Park, into sonic collages of many moods and colors.
Despite how high they often turn up the heat, though, they wind up the disc with a fairly meditative drum-and-voice track recorded in Sydney with master percussionist Zakir Hussain. It's a fittingly enigmatic epilogue to this explosively good CD by one of Ireland's most boldly inventive bands.
Author:
Tom Orr
Tom Orr is a California-based writer whose talent and mental stability are of an equally questionable nature. His hobbies include ignoring trends, striking dramatic poses in front of his ever-tolerant wife and watching helplessly as his kids surpass him in all desirable traits.