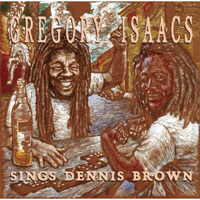 Gregory Isaacs – Gregory Isaacs Sings Dennis Brown (RAS Records 06076-89934-2, 2004)
The Gladiators – Father and Sons (RAS Records 06076-89935-2, 2004)
Various Artists – Reggae Pulse 5: Protest Songs (Trojan/Sanctuary 06076-80483-2, 2005)
"Pass it On" urges an old Wailers tune, and it's a piece of advice repeatedly taken to heart in reggae. In these three releases the reggae vibe is passed on in as many ways- from one singer to another, one generation to the next and by those whom, as in rock and other musical mediums, seek to shed light on the many ills of this world.
Following last year's quite good Dennis Brown Sings Gregory Isaacs, it was only a matter of time
before the other side of the coin was presented. Brown and Isaacs were true reggae brethren, not only collaborating on several notable recordings but sharing stylistic similarities as well. Both projected a man-of-the-people image despite their success, both sang of everything from romance to social injustice
with equal conviction and both had their share of substance abuse problems. Brown's difficulties in that regard contributed to his death at the age of 42. Isaacs, thankfully, is still with us, and his collection of Brown covers tops the earlier Brown-sings-Isaacs disc in terms of quantity (15 tracks) and a better balance of love songs with roots consciousness.
Isaacs' smooth, understated vocal delivery has lost some of its suppleness over time and he does not possess the same apocalyptic reach as Brown on a song like "The Prophet Rides Again." Even so, he manages to wrap his distinctive tones around such chestnuts as "Money in My Pocket," "Cassandra," and
"Tribulation" with world-weary grace and conviction. This disc is a perfect companion piece to its predecessor as well as hitting home on its own.
The Gladiators have been laying down quality roots reggae for decades, and rumor has it that longtime frontman Albert Griffiths is planning to hand over the reins to his two offspring who perform on the aptly-titled Father and Sons– Al Griffiths on vocals and Anthony Griffiths on drums.
It sounds as if the lessons the elder Griffiths is imparting are wise ones and that the younger ones are learning them well, because the disc is a fine addition to the Gladiators' body of work. Riddims pulsating in classic style, intricate arrangements played by a cast of Jamaican notables and breezy harmonies abound, all with a mix of humble sincerity peppered by occasional cheekiness that Gladiators fans have come to know.
A few crackling dubs are included for good measure, as well as the surprising non-reggae track "Farewell," an R&B love ballad of the sort that inspired many Jamaican harmony groups in the first place. Sweet stuff all around.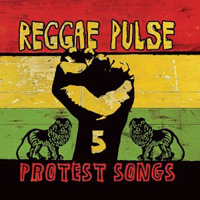 Reggae Pulse 5: Protest Songs contains some landmark reggae tunes like Israel Vibration's "The Same Song" and "Revolution" from Dennis Brown as well as nicely done cover versions (Luciano's "Eve of Destruction" is a potent take on a song that's become timely again).
Not everything here really reflects the raised-fist image on the front cover- it's a bit of a stretch to think of offerings like Half Pint's "Greetings" or "Ring the Alarm" by the late Tenor Saw as protest songs. However, those that do fit the mold, including such rebel-rousing tracks as Black Uhuru's version of Steve Van Zandt's "Solidarity" and the recent Steel Pulse scorcher "No More Weapons" do the concept a great service indeed. But the undeniable bottom line is that this is a very strong selection of some of the most thought-provoking reggae of the last 35 years, including peak form works by Third World, Delroy Wilson and Junior Reid.
True protest songs or not (and you can make up your own mind about that), Reggae Pulse 5 is well worth getting for the solidly conscious punch it packs.
Author:
Tom Orr
Tom Orr is a California-based writer whose talent and mental stability are of an equally questionable nature. His hobbies include ignoring trends, striking dramatic poses in front of his ever-tolerant wife and watching helplessly as his kids surpass him in all desirable traits.