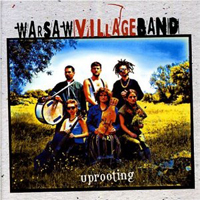 Warsaw Village Band
Uprooting (World Village 468036, 2004)
These three guys and three gals from Poland caused quite a stir with their previous album People's Spring, a brash fusion of Polish folk and contemporary attitude. They show no signs of dropping the ball on this latest piece of work, either.
Their assortment of stringed instruments (violin, cello, dulcimer, hurdy gurdy) and ample percussion support is often played with rockish aggression, though the overall atmosphere makes it clear that there is a healthy degree of tradition at work here. Uprooting is precisely what they're doing, but they're also replanting in some very rich soil.
Throughout the disc are brief excerpts from old folk recordings, a kind of connective tissue between the muscles of the band's own musical attack. Some of the songs waste no time crashing in full throttle while others are more seductive, making for a near-perfect balance of rough and smooth sounds. So for
every rave-up like "In the Forest" there's also an oddly beautiful track like the swaying "Matthew" or the plaintive shuffle of "Grey Horse."
The bulk of the songs are traditional ones, either reconfigured with aggressive sweep bolstered by take-no-prisoners female voices (it's the women in the group who handle all the singing) or taken at slower paces that the band is able to handle with appropriate finesse.
There are some guest artists on board who fill out the proceedings with added vocals and effects, and the picture they help to complete is one that is melodic, boisterous and adventurous by turns or
all at the same time.
The disc's liner notes include a quote by reggae longtimerBurning Spear: "Remember your past but keep livin' it in the future."
Warsaw Village Band do just that, on their own musical terms that make for listening both rousing and soulful.
Buy Uprooting
Author:
Tom Orr
Tom Orr is a California-based writer whose talent and mental stability are of an equally questionable nature. His hobbies include ignoring trends, striking dramatic poses in front of his ever-tolerant wife and watching helplessly as his kids surpass him in all desirable traits.