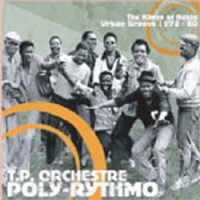 T.P. Orchestre Poly-Rythmo
The Kings of Benin Urban Groove 1972-1980 (Soundway Records SNDWCD004, 2004)
I'm so very glad there are people who seek out and make widely available vintage African music that might otherwise never be heard outside of Africa. Thanks to renewed interest in Afrobeat, highlife and varying strains of Afro-Latin music, more and more rippingly good stuff is being unearthed.
I'd hardly heard of T.P. Orchestre Poly-Rythmo until I heard of this CD, but they were by all accounts one of Benin's best-loved and most prolific bands (still existing in name to this day). Coming about in a time when much African music was influenced in equal measure by Latin sounds, American soul and funk
and the emerging groove-intensive work of innovators like Fela Kuti, T.P. Orchestre Poly-Rythmo came up with some of the hottest and sweetest combinations thereof.
True to their name and the title of this disc, they made music that had loads going on rhythmically and was more geared toward city folk than country folk. But don't go thinking this is music that's sophisticated in any highbrow way. Quite the opposite, really. This is music from a time when the sort of studio glossing-over that's common today was not an option, so musicians played their
darnedest and had chops to spare.
Anchored by the superb drumming of Yehouessi Leopold (one of Africa's finest kit players and now sadly deceased) and the dazzling lead guitar of Bernard "Papillon" Zoundegnon (who also died far too soon), the band excelled in the keyboard, horns, bass, percussion and vocal departments as well.
This disc is a feast of monster jams layered with tasty riffs, fevered rave-ups with James Brown
intensity and medium tempo burners that penetrate to the core.
There's loads of intricacy and nuance in the arrangements, including sharp solos that keep indulgence at a minimum, quirky sounds that spread the fun and perfect pairing of crunchy African beats with raw electric energy.
Though these 70 minutes represent only a small fraction of T.P. Orchestre Poly-Rythmo's total recorded output, it's a fraction that any African music and/or rare groove lover will savor while hoping there's more on the way. Cheers to Soundway Records for putting together and releasing this absolutely essential disc.
Buy The Kings of Benin Urban Groove 1972-1980
Author:
Tom Orr
Tom Orr is a California-based writer whose talent and mental stability are of an equally questionable nature. His hobbies include ignoring trends, striking dramatic poses in front of his ever-tolerant wife and watching helplessly as his kids surpass him in all desirable traits.