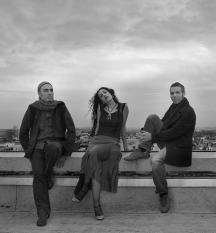 Vas vocalist Azam Ali; Axiom of Choice's multi-instrumentalist Loga Ramin Torkian; and producer/remixer Carmen Rizzo joined forces to create a globe-spanning sound that the trio calls "folk music for the 21st century." Known collectively as Niyaz, the trio's first eponymous release is a hypnotic, ecstatic, and eminently danceable album that represents the best of both traditional world music and electronic music. Carmen describes Niyaz' sound as "soothing, warm and dark—nothing too glossy." He raves, "Loga plays some very interesting instruments, and Azam's singing is like velvet. It was a very different musical environment for me, and I'm so happy to have been welcomed in so warmly." Each track reflects the multiple cultural and artistic lenses each of these accomplished artists brings to this project, from the trance-inducing beats of "Allahi Allah" to Azam's soulful, haunting cries on "The Hunt" to Loga's delicately filigreed solos on "Arezou."
Azam and Loga had known each other for well over a decade before coming together for this album. "We've talked for years about doing something together," notes Azam. "Now, the timing is right."
"We wanted to create music that will be accessible both to the communities whose native music influenced this album—the Persian, Turkish, and Indian
communities—and to a larger audience," says Loga. "Our hope is that this music will transcend boundaries." He continues, "Our traditional music is acoustic; it's very intimate music-making, with a very introverted feeling. We wanted something more extroverted for this album, and that required a new approach." With this in mind, they invited Carmen Rizzo to add his distinctive point of view to their groundbreaking blend.
Working together, Carmen says, "We wanted something that was stylish and ultimately respectful of both ethnic music and electronic music. Azam and Loga were coming from a more organic kind of artistry, while I was more in the headspace of modern-sounding records. We didn't want to alienate either dance music or traditional world music listeners, but at the same time we wanted to create something fearless."
"While this album certainly has a broader reach than anything Loga or I have done in the past," Azam says, "we really wanted to create something of substance. Even though this is dance music, music for enjoyment and entertainment, there's still food and nourishment on a deeper level."
The Farsi poetry Niyaz sets to music on this disc is by the revered 13th-century poet Jalaluddin Rumi; the Urdu poetry (translated by Azam herself for the album's liner notes) comes from similarly towering poetic mystics from the Indian subcontinent.
"This kind of poetry is very often used in traditional classical music," observes Azam. "But people who aren't keyed into that tradition don't know the poetry. So I wanted to utilize it in a much more modern setting."
"I'm not a Sufi myself," Azam avers, "but Sufism is such a strong part of traditional Persian culture. It's something in the blood; it becomes part of you." Exploring cultural and spiritual identity, she says, lies at this album's core.
"The word 'Niyaz' means need or yearning in both Farsi and Urdu," Azam explains. She and Loga see this yearning operating on multiple levels of personal experience. "The mystical aspect of all religions is something very attractive to me," continues Azam, "and I feel like it's being lost in many traditions, including Christianity and Islam." Seemingly paradoxical considering Los Angeles' hyper-glossiness, Azam finds that living in L.A. has actually made her more of a spiritual seeker. "Everyone I know living here explores many different religions," she observes. "We live in a free society, so we can explore. And living in L.A. has made me much more reflective. In a city like this, there's nothing in the urban environment to stimulate you spiritually, so you become very introspective. That comes out in an artist's work."
For Niyaz, however, the idea of community and homeland are also wrapped in a profound sense of longing, especially for the group's two Iranian expatriates. Loga arrived in the United States at age 14, first living in Eugene, Oregon before moving to Los Angeles. "Like many younger Iranian-Americans," he observes, "I actually learned more about my culture once I left the country."
Azam's background spans three different cultures: Persian, Indian, and American. "Beginning at age four," she recalls, "I grew up in a tiny town in the Indian state of Maharashtra called Panchgani. It's a beautiful hill station that's very quiet, peaceful, and untouristed. There was a large Persian community there."
"For our generation of Persians living outside Iran, there is a sense of homelessness," Azam continues. "We've grown up in an environment where we don't completely fit in. And there's a need for a sense of belonging." She says that her work as an artist has filled in that gap. "Through my music, I've explored my own cultural roots—it's a conscious choice. In the eighteen or nineteen years I've been here, the only sense of belonging I've had is through making music."
Azam says that she hopes that this album creates a new window not just for American listeners, but for Iranians as well. "Growing up, listening to Persian music, there weren't many choices: there was either ultra-traditional music, which is fantastic but has a rather limited audience, or there was super-cheesy pop. So we have a whole generation of Iranians who can't relate to their own music, and there hasn't been a successful fusion the way there has been for the Indian diaspora."
Happily, the effect of Azam and Loga's previous musical sojourns has been felt even in Iran. "Even though our previous individual CDs aren't for sale in Iran,"  notes Azam, "friends who go back and forth there tell us that they've seen our albums at their friends' and families' houses. We're so happy and proud to have made that connection." Niyaz continues that multicultural conversation.
Author:
Angel Romero
Angel Romero y Ruiz has been writing about world music music for many years. He founded the websites worldmusiccentral.org and musicasdelmundo.com. Angel produced several TV specials for Metropolis (TVE) and co-produced "Musica NA", a music show for Televisión Española (TVE) in Spain that featured an eclectic mix of world music, fusion, electronica, new age and contemporary classical music. Angel also produced and remastered world music albums, compilations and boxed sets for Alula Records, Ellipsis Arts, Music of the World.