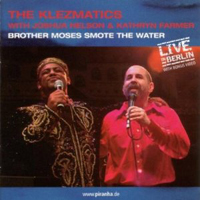 The Klezmatics with Joshua Nelson and Kathryn Farmer
Brother Moses Smote the Water (Piranha CD-PIR1896, 2005)
Sure, the Klezmatics could've made their first live album a familiar affair, chock full of many of their signature tunes combining Jewish tradition with high-flying abandon. Instead they've chosen to musically present the middle ground between klezmer and African-American gospel. The result, recorded on a
summer night in the heart of Berlin last year, is a heavenly hoot.
Trading off between songs rooted in Jewish and Christian spirituality and prominently featuring guest singers/players Joshua Nelson and Kathryn Farmer, the mood is one of genuine fervor as well as barrier-breaking fun.
After the opening invocation of "Eyliyohu Hanovi," the band thunders through a roof-raising "Elijah Rock" (with Nelson on lead vocals) that's so hot you wonder how they're going to maintain the momentum from there. But maintain it they do, thanks to solid material (including "Walk in Jerusalem," the acapella title track and the Klezmatic's own anthemic "Ale Brider"), smart build-and-release
arrangements and snug musicianship.
The liner notes lucidly explain how the whole idea came about and the music leaves no doubt as to what a good idea it was. A believer or not, these tunes will get to you as well as reinforce the power music has to reduce the perceived differences between religious ideologies to the divisive nonsense they so often are.
This is "world" music in the best sense, unifying styles, beliefs, ethnicities and a history of shared adversity in ways that more people would do well to take heed of. Thou shalt get out and purchase this disc as soon as possible. Amen.
Buy
Brother Moses Smote the Water
Author:
Tom Orr
Tom Orr is a California-based writer whose talent and mental stability are of an equally questionable nature. His hobbies include ignoring trends, striking dramatic poses in front of his ever-tolerant wife and watching helplessly as his kids surpass him in all desirable traits.