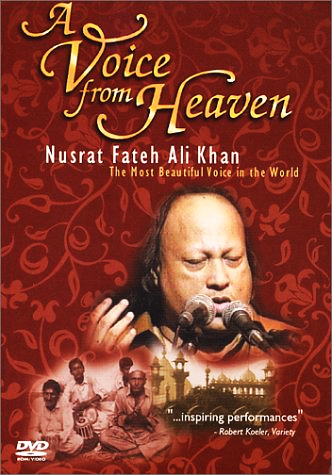 New York City, USA – Symphony Space teams for the second year with World Music Institute to present Reel Rhythms: The 2nd New York World Music Film Festival: Music from the Islamic World. The films will be showcased at the Leonard Nimoy Thalia Theatre at Peter Norton Symphony Space on 2537 Broadway at 95th Street, New York City. The festival will run April 3-26.
Presented as part of the Cultural World of Islam Festival, this series expansively explores the musical traditions of the Islamic world. Reel Rhythms showcases documentaries and feature films about Malian blues, Qawwali Sufi music, Arab classical music, Iranian classical and pop music, African-Indian Sufi music, Bosnian blues and Balkan songs, as well as seven short Moroccan films on wedding music, trance music and chants, and women's music. Among the rarely seen films are US premieres from Iran and Bosnia, as well as a newly restored, complete and uncensored version of a 1935 melodrama from Bali."The Cultural World of Islam Festival attempts to expand Western notions of Islam beyond the religious with which it is typically associated in our culture," said Isabel Soffer, Associate Director of World Music Institute. "These films speak to the incredible diversity of geography, cultural expression and ethnicity Islam embraces. Were pleased to present this rare snapshot of Islamic culture."
Reel Rhythms is curated by Isabel Soffer/World Music Institute with Yuko Yamamoto and produced by Ed Budz.
Program:
(double feature)
Sunday, April 3 @ 2:00 pm
The Voice of Iran: Mohammad Reza Shajarian
2002. Christian Braad Thomsen. 98 min. English.
US Premiere
A spotlight on the great classical singer Mohammad Reza Shajarian, whose music reaches back 800 years into Persian history. Shajarian, a master of improvisation known for his deeply rooted spirituality and sensitivity to the mood of the moment, creates music of astounding beauty. To be in Shajarians audience is to be transported back to Persian courts of old, ruled once more by the wit and poignancy of the greatest Iranian poets Rumi, Sadi and Hafez. Between songs, Shajarian talks about his inspiration, explains the meaning of the songs and discusses the poets behind them.
(screened again on Tuesday, April 5 @ 8:30 pm)
4:15 pm
Googoosh: Iran's Daughter
2000. Farhad Zamani. 158 min. English and Farsi, with English subtitles.
She became the best-selling pop singer in Iran, only to be branded a temptress, and forbidden from performing in front of men silenced by the 1979 Islamic Revolution. This thoughtful, highly entertaining portrait of the magnificent diva and actress Googoosh features interviews with friends and family, as well as clips from the countless performances and films that comprised the great performers tragically truncated career. Googoosh places the divas phenomenal success comparable only to the West's cult of Elvis in its political and historical context by providing a look at the status of women in Iran before and after the revolution. Winner Vancouver Iranian Film Festival.
(double feature)
Tuesday, April 5 @ 7:00 pm
Nusrat: A Voice from Heaven
2000. Giuseppe Asaro. 78 min. English.
Nusrat brings us the greatest modern interpreter of mystical Qawwali music, the late  Nusrat Fateh Ali Khan. What emerges, through interviews with Nusrat himself, and with the musicians who helped bring his work to Western audiences, is more than just the portrait of one man. Nusrat is also a probing exploration of the philosophy underlying the Sufi music of Pakistan. A performance by Nusrat's nephew, Rahat, provides eloquent testimonial to the endurance of that legacy.
8:30 pm
The Voice of Iran: Mohammad Reza Shajarian
(see description on April 3 @ 2:00 pm)
Sunday, April 10 @ 2:00 pm
Morocco, Body and Soul
A series of short films, screened with one intermission.
Izza Genini. French, with English subtitles.
The descendants of black slaves, a female troubadour, and villagers from the most remote heights of the Atlas Mountains these unlikely groups constitute Morocco's very best musicians. They were the country's best-kept secret…until now.
Director Izza Genini scoured the land to bring you Morocco's most unusual, most powerful, most entrancing music in seven fascinating portraits.
Airs in Berberland, Part I: Vibrations in the High Atlas 26 min. 1992.
In the lost heights of the Atlas Mountains, an entire village assembles, come nightfall. The men, playing flute and drum, accompany the haunting sound of the women's high polyphony. Once the music has set the mood, the adersi begins, a rapturous dance in celebration of the cosmos.
Airs in Berberland, Part II: Nuptials in the Middle Atlas 26 min. 1992.
Much is riding on this wedding. Two Berber tribes, the Zayane and Ichker, have come together to perform the Asli and Taslit the nuptials of a mythical fiancé and fiancée that will ensure abundance and fertility for the year. Nuptials demonstrates that when a community's continued existence depends on the quality of song and dance, these tend to be spectacular.
Aita 26 min. 1987.
Though she has no official religious role, no ceremony seems truly sanctified without the blessing of Fatna El Hocine's outbursts of song. El Hocine, a celebrated cheika, or female troubadour, is so popular in Morocco that, from time to time, she forgoes the Bedouin tent to perform, like a rock star, in jam-packed stadiums and concert halls.
Gnaouas 26 min. 1990.
Black Africa flows in the veins of Morocco. Originally brought in as slaves during the 15th century gold rush, the Gnawas gathered into brotherhoods to practice spirit possession and exorcism, with rituals borrowing as much from pre-Islamic culture as from the rites of African divinities. These ceremonies, accompanied by the bass of the great hajhuj lute, the crackling of the metal castanets, and the heavy beat of the drums, call for the mlouk, the beneficent genie who will come down upon the dancer at the height of his trance.
Hymns of Praise 26 min. 1987.
One of the most sacred pilgrimages in Morocco is a physically exhausting,   emotionally challenging, nine-day ceremony whose destination is the shrine of the founder of the Islamic Kingdom of Morocco. The Sufi brotherhood of the Alamiyines leads the pilgrims with strict discipline, but also extraordinary joy. The inauguration ceremony takes the followers through more and more breathless phases to an ecstatic state, and, for the rest of the week-long journey, the exquisite rhythms of drums and oboes keep the pilgrims energized.
Lutes and Delights 26 min. 1987.
When the Muslims and Jews were expelled from Spain, the wonders of Andalusia were not lost. Their music took root in North Africa, their land of exile, and today has earned Abdesakek Chekara's orchestra fame throughout Morocco. His faithful interpretations of Arab-Andalusian music harkens back to a time of tolerance, when Christians, Muslims, and Jews shared the land.
Malhoune 26 min. 1989.
Malhoune, the poetry of popular wisdom, is expressed in musical sessions in Marrakesh and Meknes. Similar to classical poetry in its lyrical and rhythmic structures, the malhoune mirrors everyday reality, hopes and fears.
(double feature)
Tuesday, April 12 @ 7:00 pm
Je Chanterai Pour Toi (Ill Sing For You)
2001. Jacques Sarasin. 76 min. French and African dialects, with English subtitles.
In the sixties, his was the voice of Malian independence: the blues singer Boubacar "KarKar" Traoré was a national sensation, rousing the country over the radio and on the dance floor. But years later, his fortunes drastically reversed. Having sung so much of his music for free, KarKar became impoverished, and was forced to abandon his career to work as a tailor, and later as an immigrant worker in France. Although his music continued to be heard in Parisian immigrant shelters, on the weekends back home, most thought him dead. A music producers chance discovery allowed KarKar to rewrite the end of an outsize career as uplifting as it could be tragic.
8:30 pm
Festival in the Desert
2004. Lionel Brouet. 52 min. French, with English subtitles.
Festival in the Desert trudges deep into the Sahara for a one-of-a-kind musical festival in celebration of Mali's Tuareg peoples. The festivals exotic charm lured a diverse group of world-famous musicians, as well as the most adventurous of music lovers. Live performances and interviews with the festivals artists and
inspired organizers bring this unforgettable experience to life.
Sunday, April 17 @ 2:00 pm
Marcel Khalife Voyageur
2004. Pierre Dupouey. 200 min. Arabic and French, with English subtitles.
The life and music of Lebanese maestro Marcel Khalife, whose extraordinary talents helped reinvent and revive Arab 'ud playing. Khalife earned wide acclaim by his innovative talent garnered him audiences outside the Middle East, in Japan, Australia, the United States, Latin America, Europe and Africa. Not content with reviving ancient tradition, Khalife also gave birth to a popular new style of Near Eastern ballet, the result of his fruitful collaboration with the Caracalla Dance Troupe.
(double feature)
Tuesday, April 19 @ 7:00 pm
The Bridge of Bosnian Blues (aka Sevdah: The Bridge That Survived).
2004. Mira Erdevicki. 60 min. English and Bosnian with English subtitles.
US Theatrical Premiere
At the height of Bosnian ethnic strife, a 500 year-old bridge was destroyed in a symbolic act of hatred. The incident compelled the best musicians from the region representing all ethnicities to get together and sing the blues. As war raged around them, their music dared to transcend the communal strife devastating their society. A decade later, the regions remaining divisions decided these musicians of courage to reunite, though widely scattered throughout the continent by that time. Once again, their Bosnian blues reminded its listeners of the deeper identity that despite recent history still unites the political entities of ex-Yugoslavia. A bittersweet true story.
8:15 pm
Whose is this Song? (Chia E Tazi Pesen?)
2003. Adela Peeva. 70 min. English narration. Bulgarian, Turkish, Greek, Albanian, Bosnian, Macedonian and Serbian, with English subtitles.
US Premiere
Searching for the origins of a folk song shed heard as a child, director Adela Peeva embarks on an odyssey through the Balkans. Her search is rewarded again and again, but reveals that reality is much darker than memory she discovers the song in a myriad different languages and styles; as love ditty, religious hymn, even military march. The song is a testament to the cultural ties binding the regions warring ethnicities. Alternately humorous and alarming, award-winning Whose is this Song? illustrates the stubborn madness of nationalism.
(double feature)
Sunday, April 24 @ 2:00 pm
Legong: Dance of the Virgins
1935. Henry de la Falaise. 65min. Silent, with subtitles, and orchestral
score.
Newly restored unedited, uncensored.
Set around a tragic Balinese love story, Legong has only recently gained the appreciation it deserves in the 1930s, it was severely censored because of its numerous topless dancers. Legong, which was filmed entirely on location in Bali, captured the frenetic religious dances, mystical parades, *censored*fighting, and everyday life of a now vanished culture. A fascinating historical document, also of interest as a rare example of a film shot in beautiful two-color Technicolor.
3:15 pm
Rasinah: The Enchanted Mask
2004. Rhoda Grauer. 57 min. Javanese and Indonesian, with English subtitles.
A forbidden glimpse of the life of Rasinah, the legendary master of Topeng Cirebon an ancient masked dance from West Java, Indonesia. Rooted in Islamic mysticism, the spiritual significance of the masks and dances was restricted to "specialist families," who for centuries passed on their esoteric heritage from generation to generation. Making history, director Rhoda Grauer finally brings
us their story.
(double feature)
Tuesday, April 26 @ 7:00 pm
From Africa to India: Sidi Music in the Indian Ocean Diaspora
2003. Amy Catlin-Jairazbhoy, Nazir Ali Jairazbhoy. 74 min. English.
The Sidis are a remarkable Indian community of African descent. This film traces the whole Sidi journey beginning when their Swahili and Bantu ancestors set sail across the Indian Ocean, to their rise to great political power during the Mughal period. But the main focus is on today's Sidis, capturing their rich, hybrid traditions rites involving impressive coconut-smashing, ecstatic trance, fire-walking, and fire-eating. Interviews with modern Sidis complement context provided by scholars. From Africa… concludes with stunning concert highlights from the first international Sidi music tour.
8:30 pm
Colours of the Earth
2004. Shefali Bhushan. 60 min. English and Hindi, with English subtitles.
A musical travelogue to India which explores an extraordinary range of traditions from the deserts of Rajasthan to the Himalayas, from the banks of the Ganges to Tagore's Bengal. A gorgeous India rarely seen or heard.
Reel Rhythms is part of the Cultural World of Islam series and is made possible in part by Arts International/The Doris Duke Foundation for Islamic Art.
Directions:
Conveniently located at 2537 Broadway at 95th Street, Symphony Space is easily accessible from the 96th Street and Broadway subway stop on the 1, 2, 3 and 9 lines as well as the B and C subway trains, which stop at 96th Street and Central Park West. From the B or C walk (or transfer to M96 or M106 bus) west three blocks to Broadway, and then one block south. Situated at the halfway mark
between Midtown and Harlem, Symphony Space is 10 minutes from Times Square, 10 minutes from 125th Street, and 15 minutes from the West Village/Chelsea via the subway.
Box Office:
Tickets for performances are available by visiting the Symphony Space Box Office at Broadway and 95th Street, Tuesday-Sunday, Noon to 7:00 pm, by calling 212.864.5400 Tuesday-Sunday, 11:00 am to 7:00 pm or on-line at www.symphonyspace.org.
Author:
Angel Romero
Angel Romero y Ruiz has been writing about world music music for many years. He founded the websites worldmusiccentral.org and musicasdelmundo.com. Angel produced several TV specials for Metropolis (TVE) and co-produced "Musica NA", a music show for Televisión Española (TVE) in Spain that featured an eclectic mix of world music, fusion, electronica, new age and contemporary classical music. Angel also produced and remastered world music albums, compilations and boxed sets for Alula Records, Ellipsis Arts, Music of the World.