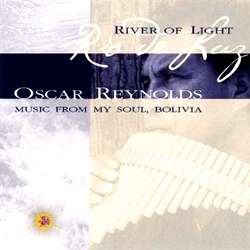 Oscar Reynolds
Rio de luz/River of light (Karumanta 006, 2004)
San Franciso-based Oscar Reynolds hails originally from Bolivia, the country one most associates with his chosen instrument, the sikus, or pan-pipe. Oscar is a talented multi-instrumentalist, capable of turning his hand to guitar, keyboard, bass, charango & percussion and his longevity as a musician (this is his sixth solo album) owes much to his ability to convey the traditional sound of Bolivia in a contemporary setting.
For River of light Reynolds has assembled a small group of musicians who work in a very tight and carefully arranged ensemble to provide a lively instrumental backdrop to Reynolds' very lyrical pipe style. Fellow Bolivians José Luis Reynolds (charango), Fernando de Sanjines (Percussion), a brace of Peruvians – Lalo Izquierdo (cajón) & Raul Ramirez (Percussion) join Enrique Coria (guitar/bass) from Argentina and Spanish flamenco guitarist Chuscales to revitalize a sound many of us have not paid attention to since the heady days of Incantation.
It has to be said, Reynolds' music should not really be spoken of in the same breath, his approach to traditional tunes and more contemporary themes in the music bring far more color to the sound and the jazzy Latin-tinged arrangements are perfect for chill-out, preferably with a long cool drink…
There's an effortlessness in River of light which takes the listener on a timeless journey across imagined, endless plateau, meeting broad sunset rivers flooded with sparkling light.