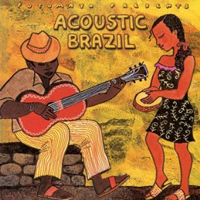 Various Artists
Acoustic Brazil (Putumayo PUT 234-2, 2005)
Putumayo's 1999 release Brasileiro was also mostly acoustic though more upbeat, and the label has presented other musical aspects of the same land with their collections Festa Brasil, Samba Bossa Nova and Brazilian Groove. Each got progressively more contemporary-sounding, and whether you regard that as a good thing or not, you're likely to be quite taken with this latest offering. Why? Simply put, it's
a selection of terrific songs by legendary artists (Gal Costa, Caetano Veloso, Chico Buarque), more recently discovered talents (Rita Ribeiro, Mónica Salmaso) and lesser-knowns in need of a boost (Glaucia Nasser, Marcio Faraco).
The idea with this disc is to step back from the party atmosphere often associated with Brazilian music and celebrate on a more delicate, introspective scale. Costa's opening selection "Aquele Frevo Axe," sweet enough to be used as background in a travel ad but far from lightweight, is a good example of how
this disc keeps the vibe mellow while still displaying the depth that makes Brazilian music such a tonic in the first place.
The African-based rhythms that are the foundations of samba and bossa nova are here, though often bubbling just under the surface (in much the same way as Cape Verdean music, which some of this will remind you of).
The songs themselves (neatly divided between male and female artists) are mostly short meditations on life, love and music, all possessing an intimate quality that feels more like the aftermath of the carnival than the carnival itself.
Close listening without distraction reveals many a sonic reward. Marvelous subtleties abound, atmospheric touches of distant vocal and instrumental sounds that frame shimmering songs like Nasser's sensual "Labios de Cetim" and Anna de Hollanda's aching "Samba Triste." The CD's only 40 minutes
long, but there's not a second wasted. Great, great stuff.
Author:
Tom Orr
Tom Orr is a California-based writer whose talent and mental stability are of an equally questionable nature. His hobbies include ignoring trends, striking dramatic poses in front of his ever-tolerant wife and watching helplessly as his kids surpass him in all desirable traits.