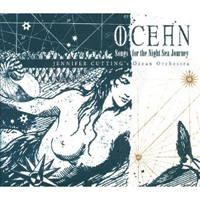 Jennifer Cutting
Ocean: Songs for the Night Sea Journey (SunSign SCD2004, 2004)
Jennifer Cutting is an Anglo-Irish-American composer/bandleader with advanced degrees in music and ethnomusicology. Ocean: Songs for the Nigh Sea Journey is a high concept album that traces an archetypal spiritual/psychological journey through its course. The author took seven years to complete this broadly conceived project, which is presented as a hybrid of traditional Celtic and 70s-style folk rock and electronic music. Cutting called upon the talents of almost three dozen musicians to assist her in making this concept a reality. With this much intent and effort behind the project, the stakes are indeed high.Some of the numbers on this album are gems, at least in part.
The opening piece, invoking the ocean, "The Call of the Siren," is beautiful and evocative. "The Gladdest Breeze" is Cutting's arrangement of an, until now, unknown Irish ballad. She presents another Irish gem in "My Grief Upon the Sea". Cutting even re-imagines "Jupiter", from Gustav Holst's "The Planets", as a stirring Celtic hymn.
There is a strong Celtic feel to most of the numbers on this album, whether they are arrangements of traditional Celtic music or new compositions. Most numbers begin with acoustic traditional instrumentation that displays the subtlety, beauty and emotional depth of this musical tradition. The problem arises in the second half of most of the numbers, when the drum kit kicks in with a pounding rock beat, seconded by electric bass and a wall of synthesizers. The traditional character of this music is sadly trivialized by turning it into 70s-style folk rock anthems with electronic touches worthy of Switched on Bach.
All of the mystery, mood and atmosphere created in the first half of these numbers are drained away by such an overblown treatment. It is as if Cutting believes that for a song to build in emotional intensity, she must increase the number of instruments and voices in the mix, in addition to increasing the sheer volume. Too many numbers collapse under their own weight in a bombastic climax, which is a shame as much of the traditional music and original compositions presented here have the legs to stand on their own without such ill-conceived "additions". Too bad that Cutting didn't trust in the quality of the traditional material, her original compositions and the capabilities of her musicians and singers to carry the day.
Buy Ocean: Songs for the Night Sea Journey
Author:
Marie Jost
Marie Jost received her doctorate in art history from the University of North Carolina at Chapel Hill. She is a flamenco and world music aficionado, a Hong Kong film enthusiast, and an ardent Leslie Cheung fan. Ms. Jost currently resides in Chapel Hill, North Carolina, U.S.A.