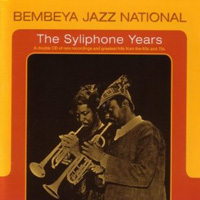 Bembeya Jazz National
The Syliphone Years (Stern's Africa STCD 3021-22, 2004)
The West African nation of Guinea pretty much had to start from scratch after declaring independence from France in 1958. To help build a sense of national pride, new president Sekou Toure mandated that orchestras would no longer play music based on colonial motifs. His government also sponsored the formation and training of new bands that would base their sound around elements that were
specifically African. The greatest of these outfits was Bembeya Jazz National, first formed in 1961 and remaining active to this
day.
By the middle of the '60s they'd begun recording for Guinea's prolific Syliphone label, bringing to light the glorious range of music these guys were capable of. Like a host of other African bands of the era, their music was heavily Latin (particularly Cuban) influenced. They even toured Cuba in 1965,
the first of their ilk to do so. They did their own country and government proud, however, recording songs like "Republique Guinee" and "Air Guinee" that reflected the emerging country's status and did so with irresistibly tight and celebratory grooves. Furthermore, they made good on their pledge to draw upon various aspects of African culture, utilizing such instruments as the balafon, adapting traditional and griot songs, touching upon historical and spiritual themes and eventually absorbing aspects of highlife, rumba and soukous into their music. But beyond all the right formulas, it was the caliber of individual talents in the group- including superb lead guitarist Sekou "Diamond Finger" Diabate, colorfully charismatic lead vocalist Demba Camara and the blazing trumpets of Achken Kaba and Sekou Camara -which managed to bring out a collective brilliance that gave Bembeya Jazz a consistent freshness and staying power.
The Syliphone Years, a double CD, two-and-a-half-hour set put out by Stern's, is an absolute must-own packed with riches from Bembeya Jazz's marvelous early period. Cuban-drenched jams, upbeat anthems, innovative groundbreakers and dependably wallop-packing songs are heard here in all their
vintage glory. On disc one, the young band is heard finding and quickly honing their chops, each song blazing with a joyous sense of both groove and substance.
Disc two feels more experimental and far-reaching, with bold sounds and song structures that showed how Bembeya Jazz dealt with their own expanding vision as musicians, changing musical tastes on the African continent and the untimely death of Demba Camara.
Like Senegal's Orchestra Baobab and Mali'sSuper Rail Band, Bembeya Jazz National is nothing short of an African music institution, and no one with a passion for African music should be without this dynamite double dose of their greatness.
Author:
Tom Orr
Tom Orr is a California-based writer whose talent and mental stability are of an equally questionable nature. His hobbies include ignoring trends, striking dramatic poses in front of his ever-tolerant wife and watching helplessly as his kids surpass him in all desirable traits.