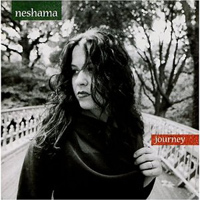 Neshama Carlebach
Journey (Sameach Music NDS2004, 2004)
Neshama Carlebach is the daughter of famous Jewish spiritual leader Rabbi Shlomo Carlebach. One of his legacies is a body of spiritual music with simple, singable melodies that are known and loved by many people throughout the world. Since Reb Schlomo's death, his daughter, Neshama, has continued the delightful task of bringing this music to life and sharing it with people the world over.
In her latest album, Journey , she interprets 11 of her father's songs (including one never before performed in public) and contributes two of her own songs, composed in collaboration with her wonderful pianist and arranger, David Morgan.The music is devotional in nature and the lyrics of all but one song are in Hebrew (though excellent transliterations and translations of all lyrics are provided, along with the Hebrew texts). What is surprising about this album is the range of musical styles used to interpret these simple, but hypnotic songs.
There is an acoustic folk and folk-rock feel to a few of the numbers, not unexpected for music associated with the man known as the folk singing rabbi of 1960s Greenwich Village. But what astonishes is the abundance of other musical styles heard on this album. This is the work of Neshama Carlebach and David Morgan, who make a formidable musical team as arrangers and performers. There are funk, jazz, pop, flamenco rumba and even country arrangements. Neshama possesses a warm, inviting and expressive voice at home in all styles; but where she really shines is in the jazzier arrangements. She can sing a tender lullaby, funky honky-tonk or dark, cool, late night jazz with equal conviction. But in every instance, an appropriate musical style is chosen for each song, guided by the message being communicated through the words and melodies—joy, sadness, quiet meditation or hope.
This album expresses a zest for life in all its facets, with inspiring performances from all involved. Special note should be made of the two numbers that Neshama and David Morgan composed for this album. Both continue the inspirational impetus of Rabbi Schlomo's own body of work, but Neshama has found her own voice and is ready to share it with the world. Overall, an outstanding album, beautifully performed, with a spiritual message communicated in both words and music that deserves to be wider known outside of the Orthodox Jewish community. Neshama is a gift for all, regardless of religious convictions or affiliations.
Buy Journey.
Author:
Marie Jost
Marie Jost received her doctorate in art history from the University of North Carolina at Chapel Hill. She is a flamenco and world music aficionado, a Hong Kong film enthusiast, and an ardent Leslie Cheung fan. Ms. Jost currently resides in Chapel Hill, North Carolina, U.S.A.