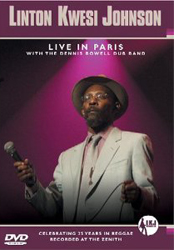 With his suit, spectacles and fedora, Linton Kwesi Johnson looks more like a dapper West Indian sleuth than one of the most renowned figures in reggae. His status as perhaps the world's greatest dub poet (that is, one who intones verse over reggae rhythms) has been solidified in a series of acclaimed if few-and-far-between albums he's released since 1978.
Johnson was born in Jamaica but raised mostly in England, and the often casually racist attitudes he encountered in British society led him to embrace political activism, poetry writing and reggae, all crucial factors in his hybrid means of artistic expression. 2003 marked a quarter century in reggae for LKJ, a milestone commemorated by a triumphant new concert DVD, Linton Kwesi Johnson Live in Paris with the Dennis Bovell Dub Band (LKJ Records/BMG).
With the help of many of his musical sidekicks from over the years (including bassist/main collaborator Bovell, guitarist John Kpiaye, sax and flute man Steve Gregory, keyboardist Nick Straker, drummer Paul Blake and percussionist Tony Uter), Johnson cuts deep into some of his best material. His dry authoritarian voice, rich with the cadences and patois of his birthplace, articulately speaks out against war, racism and corruption, pays tribute to some martyred heroes and laments the fast-paced desensitization of today's world.
Musically, things are as rock solid and infectious as any memorable reggae concert, thanks to the chops and creativity of Bovell and company (when was the last time you heard a reggae band with a violin player?). Johnson doesn't move around much on stage, instead staying focused on giving the nuances of his reggae poems the intensity they deserve.
The DVD also includes an in-depth interview with Johnson in which he recounts, often humorously, the story of how his singular artistry as a dub poet came to be. The concert alone is available on CD as well. Seen or heard, it's a reggae experience like no other.
Buy Linton Kwesi Johnson Live in Paris
Author:
Tom Orr
Tom Orr is a California-based writer whose talent and mental stability are of an equally questionable nature. His hobbies include ignoring trends, striking dramatic poses in front of his ever-tolerant wife and watching helplessly as his kids surpass him in all desirable traits.