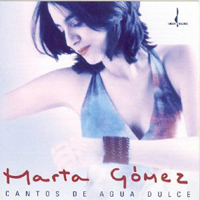 Marta Gómez
Cantos De Agua Dulce: Songs of the Sweet Water (Chesky Records JD281, 2004)
I heard one of this disc's songs on a global music radio show recently and was so captivated I just had to get my hands on the whole album. Now that I've gotten my hands on it and filled my ears with it, I remain captivated. Marta Gómez is from Colombia but injects her smart, sharp and sensual music with an
obvious love for the sounds of several Spanish-speaking Latin American nations.
Her songs might put you in mind ofTotó La Momposina's Afro-Colombian declarations, Susana Baca's black Peruvian soul or the Chilean longings of Mariana Montalvo.
She's no mere imitator, though. Her musical backing is minimal- just guitar, bass and percussion on most of the tracks -and her voice, a marvelous mixture of spritely and melancholy, slips into, out of and around the arrangements in much the same manner as a jazz singer with a similarly attuned trio. The majority of the tunes were composed by Gómez herself and concern matters obviously close to her heart- love lost and found, memories of things, places and people, simple pleasures and hope getting the better of uncertainty.
Because the instrumentation is sparse, the songs are able to break down to the most rudimentary elements (at times just a beat and voice) or open up with an added flute or accordion to create the sonic equivalent of sunshine breaking through clouds. Cantos de Agua Dulce is, as the name suggests, an album that refreshes without artifice. Come on in, the water's great.
Buy
Buy
Author:
Tom Orr
Tom Orr is a California-based writer whose talent and mental stability are of an equally questionable nature. His hobbies include ignoring trends, striking dramatic poses in front of his ever-tolerant wife and watching helplessly as his kids surpass him in all desirable traits.