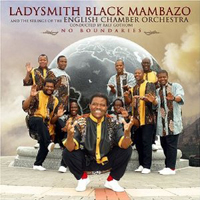 Ladysmith Black Mambazo and the Strings of the English Chamber Orchestra
No Boundaries (Heads Up International HUCD 3092, 2005)
There are those who have come to regard Ladysmith Black Mambazo as overexposed, or worse, a group who have dabbled too much in mainstream music for their own good. Their gorgeous, gospel-tinged acapella singing had already made them stars in their native South Africa by the time Paul Simon featured them on his landmark Graceland album and tour in 1986-87.
In subsequent years they've continued to release their own albums in addition to collaborating with pop stars like Michael Jackson, Stevie Wonder, Dolly Parton and Ben Harper. And the group's heavenly harmonies have also been heard on Sesame Street, numerous movie soundtracks and singing the praises of LifeSavers candy. So has all that and more damaged their credibility as world music artists? Maybe so- I really don't pay attention to such things.
What's undeniable is that nearly everything Ladysmith Black Mambazo has had a hand in has been edified by the power and simple beauty of their music. Theirs has become one of the most identifiable sounds on the planet, and any number of musical settings can benefit from the grace and class these Zulu gents have to offer. Respect and more power to them, I say.
Following their debut for Heads Up International, 2004's Raise Your Spirit Higher, Ladysmith returns with a work unlike anything they've done before. Accompanied by the lush sounds of the English Chamber Orchestra, the group shines on interpretations of inspirational pieces by classical composers like Bach and Schubert, gospel/folk selections with origins in South Africa and elsewhere and joyous turns such as an "Amazing Grace/Nearer My God to Thee" reconfigured by Paul Simon and Ladysmith leader Joseph Shabalala.
The whole disc comes across as a heartfelt classical/spiritual/global fusion with the strings and winds, urged on by distant African percussion, finely framing the familiar harmonies of Shabalala and co. Highlights include the heavenly thunder of "Ngingenwe Emoyeni (Wind of the Spirit of God)," a spine-tingling "Jesu, Joy of Man's Desire" and a new version of "Homeless," Ladysmith's first collaboration with Simon.
Once you have gone out and purchased this disc (and you should), be sure to set aside some time to relax and savor it. It's gorgeous through and through, a testament to the commitment and tenacity of a group that has overcome personal tragedy (Joseph Shabalala's wife was mysteriously murdered in 2002; one of his brothers met the same fate two years later) as well as the far more trivial ghosts of commercialism.
Author:
Tom Orr
Tom Orr is a California-based writer whose talent and mental stability are of an equally questionable nature. His hobbies include ignoring trends, striking dramatic poses in front of his ever-tolerant wife and watching helplessly as his kids surpass him in all desirable traits.