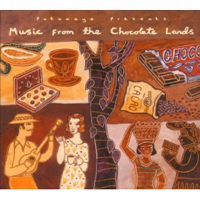 Various Artists
Music from the Chocolate Lands (Putumayo PUT 230-2, 2004)
Following the success of their collections Music from the Coffee Lands (2 volumes) and Music from the Tea Lands, Putumayo now offers something to eat along with them. The title handily spells out the concept- the music (rooted in five continents and at least one ocean) isn't linked by any real geographic or cultural continuity. Regardless, this is an array of selections that do indeed melt tastily in your mouth.
It's predominantly acoustic stuff, kicking off sharply with the Gerard Toto (Martinique)/Richard Bona (Cameroon)/Lokua Kanza (Congo) piece "Lisanga" locking in rhythmic bounce, intricate scats and a softly wailing vocal hook. Much as I'd love to carry any chocolate analogies further, better I should just say that the songs represent some of the artists' choicest work.
Susheela Raman's "Sarasa" is her trademark blend of sensuality and Tamil Indian musical substance, Los Angeles-based fusion band Ozomatli set aside their often hard-edged Latin funk for a stately Mexican tango, Switzerland and West Africa come together without a snag via the trio called Taffetas and additional treats by Haiti's Beethova Obas, Peru's Susana Baca and the Euro/Brazilian match of Think of One sweeten the deal.
And to keep things thematically suited, the album ends with Cuban great Chocolate Armenteros blazing his trumpet through the self-touting "Chocolate Sabroso."
Next time you hanker for a Cadbury, try this disc instead. You'll be just as satisfied and maybe able to put off a visit to the gym or your dentist a while longer.
Buy Music from the Chocolate Lands
Author:
Tom Orr
Tom Orr is a California-based writer whose talent and mental stability are of an equally questionable nature. His hobbies include ignoring trends, striking dramatic poses in front of his ever-tolerant wife and watching helplessly as his kids surpass him in all desirable traits.