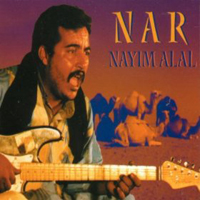 Nayim Alal – Nar (Nubenegra INN1117-2, 2003)
Malabo Strit Band – M.S.B. (Nubenegra INN1116-2, 2003)
Yeah, I know it's nearly the end of 2004, but these 2003 releases just came my way. Both are worth picking up should you come across them. Nayim Alal is from the Western Sahara. He's a rough but solid guitar player, his music a mixture of North African modes and other inspirations.
The reggae/hip-hop crunch of "El Safar" makes a good opener, paving the way for the fusions that follow. There's bluesy kickers in the style of Amadou and Miriam or Tinariwen, danceable tracks that feel like stripped-down Algerian rai, funky acoustic/electric blends and a nicely raw feel overall.
Considerably slicker is the modern Afropop of Equatorial Guinea's Malabo Strit Band (one song even bears the very title "Afropop"). Theirs is one of those happy-faced contemporary African albums with moderately glossy production putting extra sparkle in the keyboards, guitars and harmonies. Even so, it's pretty good. This group can definitely play and sing, their trio of female voices coming across with particular sharpness. And despite the modern aura there's enough going on rhythmically and vocally to keep this in the African realm. M'balax and makossa-like undercurrents keep the syrup at arm's length, giving ample reason to take these songs of faith, family and celebration seriously.
Author:
Tom Orr
Tom Orr is a California-based writer whose talent and mental stability are of an equally questionable nature. His hobbies include ignoring trends, striking dramatic poses in front of his ever-tolerant wife and watching helplessly as his kids surpass him in all desirable traits.