Mariana Montalvo – Piel de Aceituna (World Village 468031, 2004)
Tania Libertad – Negro Color (World Village 468032, 2004)
It's a pretty narrow strip of border that makes Chile and Peru neighbors on the west coast of South America, and it's likewise a fine line that two women from those nations walk as they bring their music to the world. Tradition is honored in both cases, but stepping beyond it is clearly part of the intent as well.
The brutal dictatorship of Augusto Pinochet forced Chile's Mariana Montalvo into Parisian exile back in the '70s. She'd been a prime mover in the poetic, socially conscious musical genre known as nueva canción, and continues to keep its spirit alive today. The music on Piel de Aceituna is full of lightly chugging Chilean instrumentation and rhythms along with the recurring elegance of French chanson (even including a take on Jacques Brel's "The Lover's Song"), a pronounced reggae feel on the opening "Sud' Americano" and additional sweetening such as shared vocals with Congolese singer Lokua Kanza on "Encuentro."
The title song is a lively romp laden with horns and harmonies, though the stately grace that characterizes many of the tracks is what really makes the whole thing flow. Though there's pain and longing in the lyrics, this is not a downer of a disc by any means. The music is alive and fresh, rejoicing in beautiful sounds and an underlying perspective of hope that inspires their
creation. This is Montalvo's first release since her fine but overlooked Cantos del Alma (Putumayo) in 1999. It's good to have her back.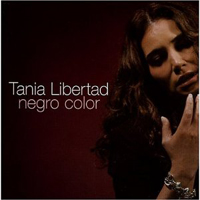 Peru's Tania Libertad is still going strong after 30 years and more than 30 albums. She can stick to music that sounds specifically Afro-Peruvian when she so chooses, but on Negro Color, as on 2002's Costa Negra (her first U.S. release), she uses Afro-Peruvian rhythms as a basis for further exploration.
A longtime denizen of Mexico City, Libertad carries the feel of her adopted home country in some of her songs along with Brazilian and Cuban flavors. Libertad's voice- a breathy, insistent one that navigates quiet or celebratory moments without getting overly emotional -can lull you and light a few fires.
The sensuality with which she envelops the swirling piano and accordion of "La Cuerda Floja" is a joy, as is her yearning intonation on "Por Debajo de la Mesa." In fact, the disc is a pretty low-key affair all around, a marked contrast from Costa Negra's more festive Africanized air but generating ample
pleasure anyway. When Libertad eases into the depths of a song like the title track or Chico Buarque's "Funeral del Labrador" (trading vocals with Brazil's Eder da Rosa on the latter), she puts enough seemingly effortless heart and soul into it that the result both caresses and stirs.
Buy Piel de Aceituna
Buy Negro Color
Author:
Tom Orr
Tom Orr is a California-based writer whose talent and mental stability are of an equally questionable nature. His hobbies include ignoring trends, striking dramatic poses in front of his ever-tolerant wife and watching helplessly as his kids surpass him in all desirable traits.