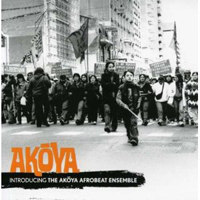 Akoya
Introducing the Akoya Afrobeat Ensemble (Afrobomb Music [no number], 2004)
Afrobeat, the percolating, politicized style constructed from some of the rougher edges of jazz, highlife and funk, has been enjoying a resurgence lately. It was the late Nigerian firebrand Fela Kuti who developed the sound and brought it to the world with epic length tunes that grooved relentlessly while lyrically denouncing corruption, greed, hypocrisy and abuse of power.
In the U.S., Afrobeat's main torchbearers have been Brooklyn-based band Antibalas, but keep an eye and ear open for Akoya (also outta NYC) as well. Their introductory release is rich with all the hallmarks of Afrobeat- longish songs, interlocked drum and percussion pulses, guitars conversing with bass and keyboards in prickly but tasty tones, horns handling most of the melodic load as well as soloing in and out of bounds and vocals that surface infrequently but get right in your face when they do. But don't think for a minute that these guys are simply copping studied moves.
They're the real deal in every respect, from the fact that lead singer Kaleta was once a sideman of Fela's to their multiracial lineup and occasional breaking of the rules (is that a guitar solo I hear?). Throw in dance-inducing tempos, adventurous rhythm changes that take things higher and appropriately
defiant lyrics, and you've got Afrobeat to truly flex your body and mind. This is a wallop of a debut and a must for Afrobeat lovers.
Buy Introducing the Akoya Afrobeat Ensemble
Author:
Tom Orr
Tom Orr is a California-based writer whose talent and mental stability are of an equally questionable nature. His hobbies include ignoring trends, striking dramatic poses in front of his ever-tolerant wife and watching helplessly as his kids surpass him in all desirable traits.