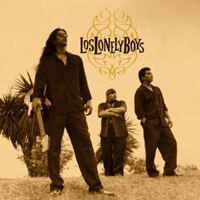 Los Lonely Boys
Los Lonely Boys (Or Music OR803052, 2003)
The self-titled debut CD, Los Lonely Boys, has garnered this trio from a tiny town in West Texas some good reviews and plenty of media attention. Brothers Henry Garza on guitar and vocals, JoJo Garza on bass and vocals and Ringo Garza on drums and vocals make up Los Lonely Boys.
The CD opens with a track entitled "Señorita." Slick guitar licks, a driving rhythm and catchy lyrics in English and Spanish speak to the possibilities of this group and the cross cultural rock influence made famous by Carlos Santana. So thick is the influence, the group paid homage to Santana in the liner notes.
There's plenty to like about this CD, tracks like "Heaven," " Real Emotions," "Crazy Dream" and "Nobody Else" with their easy harmonies and guitar work reminiscent of Stevie Ray Vaughn (he got a mention in the liner notes as well). But there's a kind of playing-it-safe quality to some of the tracks that masks
some of the musicianship, where sweet harmonies juxtaposed against some of the harder guitar licks veer off too far in the pop direction for my taste.
Fortunately there enough of that borrowed feel-good funk sound from the 70s with Reese Wynans on organ to make up for it.
The best Los Lonely Boys offers up has to be the track "Onda." Steeped in the influences of Carlos Santana and Stevie Ray Vaughn, "Onda" is a kick-ass rock piece that pays its respects without being too much of a copycat. "Onda" has to be next on the list for air guitarists everywhere and it actually has a drum solo and when was the last time you heard a drum solo?
There's no doubt Los Lonely Boys are good, but I think with some age (the brothers are still in their twenties) and some experience they'll get better, better than they already are
Buy Los Lonely Boys and the DVD Los Lonely Boys – Texican Style (Live from Austin)
Author:
TJ Nelson
TJ Nelson is a regular CD reviewer and editor at World Music Central. She is also a fiction writer. Check out her latest book, Chasing Athena's Shadow.
Set in Pineboro, North Carolina, Chasing Athena's Shadow follows the adventures of Grace, an adult literacy teacher, as she seeks to solve a long forgotten family mystery. Her charmingly dysfunctional family is of little help in her quest. Along with her best friends, an attractive Mexican teacher and an amiable gay chef, Grace must find the one fading memory that holds the key to why Grace's great-grandmother, Athena, shot her husband on the courthouse steps in 1931.
Traversing the line between the Old South and New South, Grace will have to dig into the past to uncover Athena's true crime.