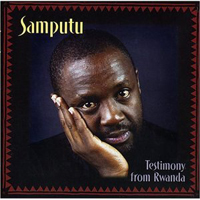 Samputu
Testimony From Rwanda (Multicultural Media MCM 4003, 2004)
It's been a decade since the genocide in Rwanda, a massive tragedy that the United States and other world superpowers did absolutely nothing to stop. Jean Paul Samputu's parents and four siblings perished in that horror, yet his music looks back not in anger but with a sense of healing.
Songs like "Ten Years Remembering" and "Mana Wari Uri He?" ("God, Where Were You?") directly address the genocide and its aftermath, others speak of spiritual steadfastness, the beauty of simple things and everyday concerns. What makes the album a winner is the way Samputu casts the delicate wail of his vocal style into a melting pot that doesn't adhere too closely to any signature African style and as a result contains hints of many. The balladeer vibe of artists like Oliver Mtukudzi and Ismael Lo is a constant, while individual tracks may carry the feel of palm wine, rumba or marrabenta in their vocal or instrumental structuring.
The perfectly attuned backing is provided by only two musicians- Aron Niyitunga on guitars, keyboards and bass and Jordan Mensah on an array of percussion. This, then, is a small-scale affair that allows Samputu's songwriting and singing skills (his high register warble is strong throughout) to shine.
Though recorded in Vermont (!), this is African to the core. It embraces you with undaunted grace and subtle power, succeeding admirably in its only readily apparent goal of presenting, beautiful, heartfelt music.
Author:
Tom Orr
Tom Orr is a California-based writer whose talent and mental stability are of an equally questionable nature. His hobbies include ignoring trends, striking dramatic poses in front of his ever-tolerant wife and watching helplessly as his kids surpass him in all desirable traits.