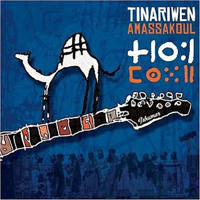 Tinariwen
Amassakoul (World Village 468026, 2004)
A lot of musicians fancy themselves rebels and freedom fighters. The members of Tinariwen truly were. Their heritage is Tuareg, a Berber-rooted nomadic people of the Sahara who were among the active militant participants in the 1990's rebellion that led to a more stable government in their home country of Mali. In that same conflict, they asserted their own cultural identity, showing that the Tuareg were not a population to be trivialized or marginalized.
Once things calmed down in Mali, the members of Tinariwen began to embrace music making as less of a sideline and more of an occupation. Their main instrument was the guitar, unusual and even frowned upon in Saharan culture, but having been inspired by the music of Bob Dylan, Jimi Hendrix and Bob Marley
throughout their war days, they came to wield guitars with the same authority as when they'd brandished guns. Even before they recorded their first album they became renowned as the musical voice of the Tuareg, expressing in song the plight of being displaced and living in the harshness of the desert.
It was both Tinariwen's music and skills in Saharan diplomacy that inspired French fusion band Lo'Jo to envision and eventually bring to fruition the first Festival in the Desert, and around that same time Tinariwen recorded what would become their international debut, 2002's The Radio Tisdas Sessions. That record was a revelation- a raw, brooding selection of desert blues filled with hypnotically chiming guitars, wearily wise vocals and swaying rhythms suggestive of an endless trek across the dunes. Their followup, Amassakoul, had been generally available though hard to find for the better part of a year before being picked up for U.S. release by Harmonia Mundi affiliate label World Village. Thankfully so, since Amassakoul picks up the power of the first disc and takes it even further.
The wall-of-guitar trance elements are still there, though this time a more rockish edge knifes its way
through the African blues vibe along with tighter syncopation suggestive of Arabic music and a blazing, confident sense of abandon.
The disc has all the signs of an emerging band both branching out and staying true, evident in stomping tracks like "Amassakoul 'N' Tenere" and "Chet Boghassa," ambiently moody offerings like "Alkhar Dessouf" and even "Arawan," a song that uses rap cadences to lament suffering in a way that wealthy American rappers couldn't begin to understand. A deeply penetrating, gut-and-soul-wrenching release, very
highly recommended.
Author:
Tom Orr
Tom Orr is a California-based writer whose talent and mental stability are of an equally questionable nature. His hobbies include ignoring trends, striking dramatic poses in front of his ever-tolerant wife and watching helplessly as his kids surpass him in all desirable traits.