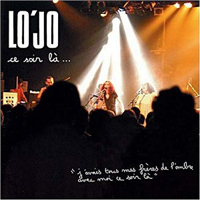 Lo'Jo – ce soir la… (World Village 468027, 2004)
Global Village Orchestra – Globalistics (Random Chance Records RCD-19, 2004)
As vague as a phrase like "world music" can be, at times it's all we've got in terms of applicability. Artists and bands who fuse sounds and ideas from a variety of places presumably do so because of an abiding love for those sounds and ideas and a desire to share them. Those who do so successfully are perhaps the true essence of what can accurately be called world music. But whatever way a given listener chooses to define the term, few would argue that world music is basically an I-know-it-when-I-hear-it thing. France's Lo'Jo has been around for 20 years, while it's only much more recently that we in the U.S. have gotten wind of them.
The band has a celebrated history of communal living, activism, collaborations with artists working in visual mediums, a hand in organizing events like the Festival in the Desert and, most importantly, brilliantly eccentric and eclectic music. To an unmistakable air of French chanson and cabaret they add rich sounds from West and North Africa, Iberia, Arabic lands, the Caribbean and assorted folkloric traditions.
They're lead by singer/keyboardist Denis Pean, whose dry but soulful demeanor comes across like a combination of Serge Gainsbourg and Tom Waits. The vocal and instrumental skills of sisters Yamina and Nadia Nid El Mourid solidify and spice up the foundation further bolstered by Mathieu Rousseau (drums), Richard Bourreau (violin) and Kham Meslien (bass).
On ce soir la… , LoJo's first live album, they fill out the sound with guest players like Benin's Gangbe Brass Band to roll out a sumptuous array of fever-dream dance songs, freewheeling jams that are equal parts tribal and highbrow, somber interludes, tart gypsy inflections and far more musical twists and turns than I can list here.
Choice material from their previous studio albums is presented along with a few new nuggets. Though recorded before audiences in their home country, it's easy to imagine this uniquely talented group going over big just about anywhere. If you've not yet heard them, this disc will handily welcome you to the fold. If you have, then you don't need me to tell you how good it is. Either way, you can't go wrong.
A brief burst of bluesy African vocal wailing kicks off Globalistics by the Global Village Orchestra, a group consisting of members from Senegal, Turkey, the Netherlands, Uiguristan, Germany, Morocco, Iran and Yugoslavia. They blend familiar instruments (violin, flute, bass, sax, clarinet) with less familiar ones ('ud, saz, ghijak, ghatam) and in the process come up with an adventurous but accessible sound that straddles jazz, classical, traditional and avant garde musics.
Sliding easily from the klezmer-ish "Blue Wedding" to Balkan Fare like "Slavic Brew," the Euro/Arabic meeting of "Tubab Magyar" and ambitious combinations like the title track, it's obvious they have chops to spare in addition to a sense of comradely fun that music brings on like nothing else. If they don't quite live up to their name, they definitely hit a lot of the right nerves with an infectious palette of rhythms, melodies and thoughtful exchanges of musical ideas. A refreshing, pleasurable disc.
Author:
Tom Orr
Tom Orr is a California-based writer whose talent and mental stability are of an equally questionable nature. His hobbies include ignoring trends, striking dramatic poses in front of his ever-tolerant wife and watching helplessly as his kids surpass him in all desirable traits.