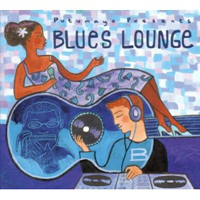 Various Artists
Blues Lounge (Putumayo PUT 229-2, 2004)
The art of mixing roots music from various sources with modern electronica has really taken off lately, and though some such efforts fall completely flat, I must say the whole trend is starting to grow on me. This new collection from Putumayo is a pleasant surprise, taking blues to a level many would have thought it had no business going. But it works, mainly because the producers involved don't so much add gloss as guts- something this music already had.
Two of the finer moments are the tracks by Tangle Eye, an intrepid duo who use the mid-20th century recordings of pioneering ethnomusicologist Alan Lomax as their starting point. Moby likewise successfully tweaks a gospel-flavored tune originally laid down in 1943, Little Axe (aka Skip McDonald) teams with U.K. producer Adrian Sherwood to create a modern sound with an authentic blues pedigree, and such similarly attuned artists as Organic Grooves and Boozoo Bajou featuring Wayne Martin bring the blues to new global frontiers by adding ingredients inspired by such sources as Jamaican dub.
Some of the grafted sounds can get heavy handed, but for the most part restraint and respect prevail. Percussive effects, nervous melodic twinges, rhythmic underpinnings moved to the fore and a slightly detached sense of cool lurk in the shadows, bringing it home every time. Once veteran artist Johnny Farmer's closing "Death Letter" invades your brain with a spooky new treatment by Organized Noize, the mixture of modern chill chamber and Mississippi Delta back porch feels just right.
Buy Blues Lounge
Author:
Tom Orr
Tom Orr is a California-based writer whose talent and mental stability are of an equally questionable nature. His hobbies include ignoring trends, striking dramatic poses in front of his ever-tolerant wife and watching helplessly as his kids surpass him in all desirable traits.