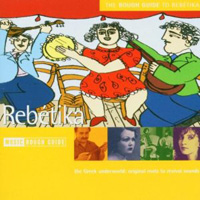 The Rough Guide to Rebétika [rebetika is also known as rembetika and rebetiko]showcases some of the best rebétika artists from its early roots to the rising stars from the more recent revival movement.
Rebétika is the music of the Greek underworld, whose golden years started shortly after Greek national independence and lasted until the 1950s. A rich and heady stew, rebetika focuses on hopeless love, disease, drugs, death and imprisonment. As a musical form, it draws on numerous sources such as the formal instrumental suites of the Ottoman court, the solo vocals of Turkey and Iran, and the captivating, sophisticated instrumentation of the café aman in Istanbul and Izmir. Andonios 'Dalgas' Dhiamandidhis (1892–1945) is ranked as one of the greatest Greek singers of his time. Known as 'Dalgas' after the undulations in his voice ('dalgas' is Turkish for 'wave'), his recording career was brief but prolific.
Steeped in the multifaceted Constantinopolitan musical tradition from an early age, Dalgas arrived to Greece in 1922 and soon became celebrated for his live recitals.
Efstratios 'Stratos' Payioumidzis (1904–1971) was nicknamed 'O Tembelis' ('The Lazy') for his chatter and love of leisure. He was the star singer of the famous 1930s 'Piraeus Quartet', which included Yiorgos Batis (composer of 'Zeïmbekano Spaniolo'), Anestis Dhelias and Markos Vamvakaris.
Vamvakaris (1905–1972), who also features on this album, was one of Greece's most rebetic composers (and undisputed master) of the bouzoúki. This song, composed by Spiros Peristeris and based on real people, eulogizes boatman Andonis 'The Knife-Puller', who for the sake of a certain 'Carmen' gets knifed
in a taverna.
After working with Markos Vamvakaris in 1937, Yiannis Papaïoannou became one of the most prolific and influential songwriters and bouzouki masters. Universally loved for his generous spirit, 'Pende Ellines Ston Adi', perhaps more than any other zeibekiko, encapsulates the defiant rebetic spirit, telling the story of five Greeks meeting up in hell and commencing festivities.
The Rough Guide to Rebetika focuses on music from the Golden Age of the genre but it also features artists who have been important in rebetika's recent revival. Born in Athens but educated and residing in France, Nena Venetsanou is one of the most versatile Greek interpreters of both modern compositions and traditional material.
Agathonas Iakovidis began playing with the revival group Rebetiko Synkrotima Thessaloniki in the early 1980s. He has gone on to forge a distinguished recording and live-performance career, relying on essentially the same eight-member backing band, which is distinguished by its clean, uncluttered
sound.
This album also features Glikeria, one of the key figures in the revival of Smyrneika, tsiftetélia and folk material in the 1980s, Mario, one of the pillars of the 1980s rebetika revival in Tessalonika (Thessaloniki in Greek), and Manolis Dimitrianakis & Dimitris Kontogiannis, who perform here with the
Rebetiki Kompania, one of the foremost rebetika revival groups of the 1970s.
Moving back to the musicians who form the historical heart and soul of the genre, Roza Eskenazi moved to Greece as a child. Discovered singing in a taverna by producer Panayiotis Toundas in 1929, she went on to embark on a successful career spanning over four decades. Her delivery is unmistakable, and 'Enas Mangas Sto Teke Mou' is a zeibekiko from her career peak during the 1930s.
Roza Eskenazi's main rival, Rita Abatzi, who possessed a huskier, more textured voice also features on this album. 'O Xemangas' is one of the few songs disparaging being high and, in the song; the singer proposes to abandon his hashish habit.
Marika Ninou was working as a singer in an Athens music hall when Vassilis Tsitsanis discovered her in 1949. Featuring Ninou and Tsitsanis, 'Ta Kavourakia' was a huge success and many Greeks in their fifties confess that this uptempo, light-toned song is the first one they can remember.
Marika Papagika recorded more than 200 sides for several companies in between 1918 and 1929, and on 'Galata Manes' cello, violin and cembalo (European hammer dulcimer) form one of the most unusual instrumental ensembles in the café aman repertoire.
This album also includes music from Theodosia Stinga, Kostas Roukounas, Yiorgos Katsaros, Stella Haskil and Grigoris Asikis, one of Greece's ud masters.
Buy The Rough Guide to Rebétika
Author:
World Music Central News Department
World music news from the editors at World Music Central