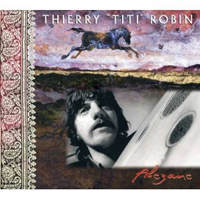 Thierry "Titi" Robin
Alezane (Naïve WN145049, 2004)
For an artist looking back over twenty-five years worth of composing and performance, choosing your favorite pieces for a compilation must be like looking into the faces of your children and picking one over the other. Well, Thierry "Titi" Robin has done just that with Alezane on French label Naïve, and he's chosen some gems.
The two CD set is overflowing with compositions spanning twelve years of Robin's recordings, pieced together from Gitans, Kali Gadji, Rakhi, Un Ciel de Cuivre and Le Regard Nu. To classify Robin's music is to stray too far off the path and the intent of his music. To put it simply, there is no classification of genre that could do his work justice. French and Spanish Gypsy influences are woven around and together with musical traditions of the Middle Eastern and Indian.
Tapestry is such an overused analogy in musical fusion but in Robin's compositions it's an apt analogy. It's as if a shiny piece of sound caught Robin's ear and he simply picked it up and put it in his repertoire. To incorporate all that's wild and wonderful in other traditions, you have to come up with a remarkable group of musicians and singers. Robin has done just that with the likes of Gabriel Levasseur, Abdelkrim Sami, Paco el Lobo, Amar Saadna, Joseph Saadna, Farid Saadna, Gulabi Sapera and a whole host of other talented musicians and singers.
The compilation is divided into two CDs, Le Jour and La Nuit. Le Jour is charged with such pieces as La Petite Mer, Rumba Do Vesou II, Swing Wassoulou, Ma Gavali and Chirmi Mala. Rumba Do Vesou II features Abdelkrim Sami "Diabolo" on the darbuka; Titi Robin, Bruno el Gitano and Mambo Saadna on guitars but it is Paco el Lobo's, Mambo Saadna's and Bruno el Gitanos's passion soaked vocals that set the piece on fire.
Swing Wassoulou really does swing in the combination of driving percussion with accordion, brass and Titi Robin on the oud. Gulabi Sapera's vocals on Chirmi Mala from Rakhi soar against the chunky percussion, Gabriel Levasseur on organ and Robin on guitar.
La Nuit as the name suggests takes a darker, more reflective, tone. Patchiv from Gitans infuses the French Gypsy sound of François Castiello on accordion with Indian-sounding guitar work by Françis-Alfred Moerman and Robin. Haçer Toruk's enchanting prelude vocals in Petite-Mere Sultane, from Un Ciel de Cuivre open the way for the intricate musical patterns of bendir, accordion, clarinet, ud and bouzouki. Django a Bagdad and Marraine are two more gems on this CD. Kali Gadji is a solo piece featuring Robin on the ud, its spare loveliness is rich beyond words.
Alezane is a first-class compilation and as an added bonus the artwork on the CD cover is stunning
Buy Thierry Robin's CDs: Gitans, Kali Gadji, Rakhi, Un Ciel de Cuivre, Le Regard Nu, and Payo Michto
Author:
TJ Nelson
TJ Nelson is a regular CD reviewer and editor at World Music Central. She is also a fiction writer. Check out her latest book, Chasing Athena's Shadow.
Set in Pineboro, North Carolina, Chasing Athena's Shadow follows the adventures of Grace, an adult literacy teacher, as she seeks to solve a long forgotten family mystery. Her charmingly dysfunctional family is of little help in her quest. Along with her best friends, an attractive Mexican teacher and an amiable gay chef, Grace must find the one fading memory that holds the key to why Grace's great-grandmother, Athena, shot her husband on the courthouse steps in 1931.
Traversing the line between the Old South and New South, Grace will have to dig into the past to uncover Athena's true crime.