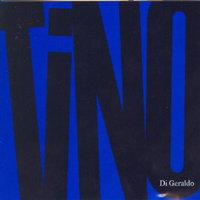 Tino di Geraldo
Tino (EMI Spain)
Tino di Geraldo is one of the most talented musicians you've never heard of, though he is one of the hardest working musicians in Spain today. He has appeared on well over 100 albums of Spain's top selling acts and a select group of its more avant-garde performers. He has produced dozens of albums for other artists, played live with the best Spain has to offer and released three solo albums. His work crosses all genres: from rock to pop, flamenco to jazz, world to experimental. So why have you never heard of Tino di Geraldo? Because he is a percussionist. Almost single-handedly, Tino revolutionized the use of percussion in flamenco.
Across all musical genres he has introduced new instruments and pioneered innovative ways of playing percussion. The fruit of this vast experience, coupled with his omnivorous appetite for new ways of understanding rhythm, is beautifully explored on his latest solo album, Tino.
For this album, di Geraldo assembles a stylistic palette that draws on a staggering number of musical styles—flamenco, rock, funk, rap, hip hop, jazz, traditional Celtic, Latin jazz, Middle Eastern, North African, West African—and filters it all through his subtle, complex, and unique understanding of rhythm.
In addition to drum kit and a whole host of percussion instruments, Tino also plays electric bass, guitars (acoustic and electric) and keyboards on this album. He samples Turkish folk music, joins forces with Gnawa musicians, the Spanish rapper Willy López, jazz musicians Jorge Pardo and Carles Benavent (who, together with Tino, form a flamenco-jazz fusion trio) and Perico Sambeat, the flamenco funk meister Diego Carrasco, Asturian musicians, African vocalists, and a long etc.
James Brown is as relevant to this album as Miles Davis, Jaco Pastorius, Led Zeppelin or Enrique Morente. Like some musical blender, the constituent parts are thrown together, broken down and recombined by the guiding genius at work. Tino di Geraldo has an understanding of rhythm as a universal principal that goes far beyond that of most other musicians. There is melody and singing on this album to be sure, but like the rap that is utilized so effectively, it is used primarily as another element to express rhythm. The rhythms, whether simple or complex, are intoxicating, provocative, and sometimes astounding in their artistry.
The whole album, from start to finish, is a shimmering, coherent whole. Displaying a well-developed artistic intelligence, this CD invites the listener on a passionate exploration of the various faces of rhythm. Acid jazz, funk, rock and progressive jazz mix comfortably with rap and African vocals in a single number; and underlying it all is Tino's profound understanding of rhythm.
To enumerate the sources so skillfully deployed in this work tells only a small part of the story. This is truly an album that is very much more than the sum of its considerable parts. The guiding hand and heart of Tino di Geraldo have created one of the most exciting world fusion albums to come down the pike in many a year.
Tino is an exhilarating work by one of the planet's great musical talents. If rhythm moves you, you owe it to yourself to discover Tino di Geraldo.
Author:
Marie Jost
Marie Jost received her doctorate in art history from the University of North Carolina at Chapel Hill. She is a flamenco and world music aficionado, a Hong Kong film enthusiast, and an ardent Leslie Cheung fan. Ms. Jost currently resides in Chapel Hill, North Carolina, U.S.A.