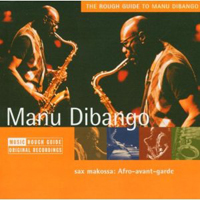 Manu Dibango
The Rough Guide to Manu Dibango (World Music Network RGNET 1144 CD, 2004)
For many, Cameroon's Manu Dibango truly arrived with his massive early '70s hit "Soul Makossa," a pulsating mostly-instrumental piece that has become a staple among African music lovers, jazz fans and dance floor loiterers. But he'd been honing his chops as a saxophonist, keyboardist, composer and arranger since long before that familiar smash, and much of the extent of his musical magic is is displayed on this
compilation. In fact, this disc manages to convey how seamlessly Dibango meshed his influences though it includes neither the original "Soul Makossa" nor any of the songs that appeared on a likewise very fine best-of that came out on the U.K.'s Manteca label a couple years ago.
Born in Cameroon but educated in France in the 1950's, Dibango grew increasingly enamored with modern jazz, eventually becoming an accomplished and renowned sax player. Over the years he resided in Belgium, Congo, Ivory Coast and on and off in his native land, absorbing the nuances of rumba, highlife, Caribbean rhythms, American funk and soul and a good deal more, leading his own music to fruition as a hard-to-classify but sparkling brand of jazzy Afro-pop.
His collaborations with such greats as the Fania All Stars, Sly and Robbie, Hugh Masekela, Salif Keita and Bill Laswell cemented his reputation as a global music pioneer and a player who could meld stylistically with practically anyone or anything (check out his guest star-laden album Wakafrica from a decade ago for more proof of that). So, given all Dibango's accomplishments, how does this Rough Guide stack up? Quite impressively. Beginning with the Latin-sounding "Ngolowake" from 1966, Dibango is heard in all his glory including his sideline skills on the marimba ("Miango Ma Tumba," "Mi Naya") his way of making the sax as expressive as a human vioce on cover versions ("Nature Boy"), his mastery of moods both laid back ("Baobab Sunset") and jamming ("Bayam Sellam") and his penchant for snappy re-invention ("Makossa Blow").
For the uninitiated, it's an almost perfect introduction to Dibango's music, while longtime fans will appreciate the variety in the track selection. You'd need a multi-disc box set to adequately sum up Dibango's 40 years of artistry, but this will do very nicely until one comes along.
Buy The Rough Guide to Manu Dibango
Author:
Tom Orr
Tom Orr is a California-based writer whose talent and mental stability are of an equally questionable nature. His hobbies include ignoring trends, striking dramatic poses in front of his ever-tolerant wife and watching helplessly as his kids surpass him in all desirable traits.