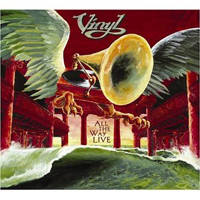 Vinyl
All the Way Live (In the Pocket Records VI450992, 2004)
If their name suggests they're something of a throwback to an earlier time of music making and music listening, their sound confirms that such is precisely the case. Apparently no one got around to telling these guys that bands nowadays are supposed to be equipped with turntables, samplers, drum machines and some badass covered in bling-bling in order to groove. It's a message I'm glad they never got, 'cause Vinyl can in fact groove like nobody's business, utilizing a lineup of guitar, bass, drums, keys, dual percussionists and a pair of horn players.
They formed in the San Francisco area nearly a decade ago, and true to the musical diversity of such a place, work soulful dollops of funk, African, reggae, R&B and Latin rhythms into their tunes. Think of them as a worldbeat ensemble and an impressively tight jam band rolled into one. This double CD set, recorded live in their hometown, is a generous sampling of what they can do and how great they sound doing it.
Their original compositions pack an unpretentious wallop, and their commitment to real flesh-and-blood music making gives them license to expertly cover tunes by funkster George Clinton, longtime reggae great Johnny Osborne and Afro-Cuban jazzer Neal Creque.
There's no full-time vocalist in Vinyl, and while they bring a guest singer or two to the fore on this collection, it's as an instrumental band that they really hit their stride. On any given track, soul might comfortably slide into ska, jazz can take a left turn into dub and there's continual ample proof that not only rock bands can rock.
Some further esteemed guest artist work crops up along the way, including wailing harmonica from Huey
Lewis, keyboard excellence from Bernie Worrell and Rob Wasserman contributing some brilliantly crazy bass soloing.
There's a sense of joy throughout these discs, of the musical vigor fueling a skilled and versatile bunch who pass the obvious pleasure of their craft onto you.
Buy All the Way Live
Author:
Tom Orr
Tom Orr is a California-based writer whose talent and mental stability are of an equally questionable nature. His hobbies include ignoring trends, striking dramatic poses in front of his ever-tolerant wife and watching helplessly as his kids surpass him in all desirable traits.