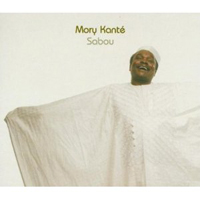 Mory Kante – Sabou (Riverboat/World Music Network TUGCD 1034, 2004)
N'faly Kouyate and Dunyakan – Kora Grooves from West Africa (ARC Music EUCD 1892, 2004)
The 21-stringed West African Harp known as the kora became a familiar instrument as African music was heard more and more beyond its borders. Nowadays it's quite common to hear the kora solo or in accompaniment on CD and see it played live on concert stages.
There's plenty of discs you can buy that feature the heavenly sounds of the kora, and here's two likewise heavenly examples.Despite years of great music as a founding member of Mali'sSuper Rail Band and on his own, Mory Kanté remains best known for the bad 1988 Eurodisco hit "Yeke Yeke." His new release Sabou is pretty much the polar opposite of anything like that sorry affair. It's an all-acoustic outing uncommonly rich in layers of pure roots excellence. Kante himself soars on balafon, bass, guitar and percussion in addition to the delicate high-end plucking of the kora.
Other participants add things like flute, hand drums and response vocals to corroborate Kante's
commanding lead call. The songs are like healing sunshowers, unfolding with cascades of percussion, melody and voices that never let up on providing sheer unspoiled African music pleasure. Nothing short of superb from start to finish, Sabou is easily one of the best releases of the year.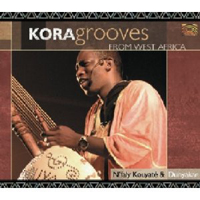 Guinea's N'Faly Kouyate presently gets around as a member of Afro Celt Sound System, though his deft and dazzling kora playing has also been heard on works by the likes of Alan Stivell and Robert Plant. Releases under his own name are the exception rather than the rule, and he makes this one count. Kora Grooves from West Africa is sparser then Kante's disc though it is likewise splendidly tight and traditional-leaning. Some funkier, jumpier tracks stand strong alongside slower, shimmering songs.
High points include "N'diyanomo," which goes from Saharan to Iberian on a dime and "N'toman," bursting out like an African hoedown when a violin arrives on the scene. Actually, the entire disc is smashing, a
potent piece of work from a master clearly at the top of his game
Whether the pleasures of the kora are new or well-known to you, either (or better yet, both) of these discs should be regarded as essential.
Buy Sabou
Buy Kora Grooves from West Africa
Author:
Tom Orr
Tom Orr is a California-based writer whose talent and mental stability are of an equally questionable nature. His hobbies include ignoring trends, striking dramatic poses in front of his ever-tolerant wife and watching helplessly as his kids surpass him in all desirable traits.