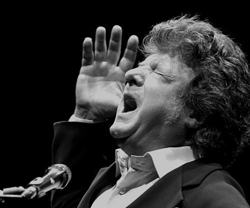 The SGAE (Sociedad General de Autores y Editores—Spanish Society of Authors, Composers and Publishers) has issued a 6-volume, 8-CD set featuring a representative sample of music released by its artists in 2002-03. Each volume of this promotional set focuses on a different style of music: Pop, Rock, Roots, Alternative, Electronic and Hip Hop, and Jazz. Although extensive, no such set could hope to be exhaustive. But it does provide an interesting snapshot of Spanish (and other SGAE member) music at a fixed point in time. The volumes of greatest interest to fans of World Music are the Raíces (Roots) and Jazz CDs. Flamenco, flamenco fusion, canción española, Celtic, Basque, Afro-Latin and African music are explored on the Roots album.
Flamenco heavy weights Enrique Morente, José Mercé and Serranito show the range of flamenco as it is currently practiced by established artists well versed in tradition. Mercé sings a bulería as a pop song (canción por bulerías), Morente offers a hypnotic, though hardly orthodox tangos, while Serranito carries the banner of traditional flamenco by including guitar, singer and dancers typical of a traditional flamenco show.
One of the limitations of the format is apparent with Mayte Martín. She has produced two critically acclaimed flamenco albums, but the number included on the Roots CD is from her album of jazz boleros. Ms. Martín, in fact, alternates releases in these radically different styles, and her bolero would have been more appropriate on the jazz album. Nevertheless, her vocal stylings are a joy to hear on whatever volume they find a place.
Martirio, who almost single-handed has led a revaluation of the until recently devalued canción española tradition, works her magic once again. Radio Tarifa and Martires del Compás, no strangers to many World Music fans, turn in characteristic performances. Ditto for Celtic pipers Carlos Núñez and Hevia.
One of the newcomers creating something of a stir inside and outside of Spain is the flamenco chill outfit Chambao. Less known to music lovers outside of Spain is the Basque music of Kepa Junkera, which makes use of the diatonic accordion, or Germán Díaz's music from Castilla-León that gives pride of place to the hurdy-gurdy. Music from Africa and the African Diaspora is represented by Huracán de Fuego from Venewzuela, Huracán de Fuego from Venezuela, and Nayim Alal and Djanbutu Thiossane.
On the Jazz volume, two trends are discernible. The first is the fusion of traditional Iberian or Latin American musical traditions with jazz. This is the strong suit of Spanish jazz. Less noteworthy are those Spanish artists who slavishly copy swing, bebop or bossa nova.
Flamenco-Latin jazz fusions are given pride of place. A duet between the Cuban pianist Bebo Valdés and flamenco singer Diego el Cigala, winners of the Latin Grammy for best traditional tropical album 2004, leads off the disc. Chano Domínguez–a jazz pianist from Cádiz in Andalucia, equally at home with jazz and flamenco, and a master at mixing the two genres–also puts in a strong performance. Jerry González y Los Piratas del Flamenco have been creating something of a stir in Latin jazz circles recently. Jerry, a Puerto Rican (by way of the Bronx) conguero and trumpet player moved to Madrid in the late 1990s and began jamming with young flamenco musicians. The result is the exciting fusion heard here. Jorge Pardo, Spain's top jazz flute player and perennial member of Paco de Lucía's Sextet until it was disbanded a few years ago, appears with his habitual line-up of drums, flute and bass with one of his current outfits, D'3.
Something a little different is the number by the Argentinean pianist Adrian Iaies, which combines Argentine tango with jazz. Somewhat outside the jazz moniker, at least in the selection included here, is Tino di Geraldo. Tino is a percussionist and drummer who has played with just about everyone in Spain, from flamenco to jazz, pop to regional. The cut from his recent solo album would, in fact, have been right at home on the Alternative volume. It is a stupendous number by one of Spain's most adventurous, talented and free-spirited musicians.
The remaining artists on the Jazz volume perform more straight-ahead jazz renditions, though most of this music is derivative and shows little of the freshness and creativity characteristic of the other numbers on the CD. Ella Fitzgerald, Tony Bennett, bossa nova, even Brasil 66, are closely copied models. The outstanding exception is Guillermo McGill, one of Spain's most acclaimed jazz drummers. Here he teams up with Chano Domínguez on piano in a tight trio that shows Spaniards can play jazz that isn't fusion and has something new to say. McGill has a following among jazz aficionados around the world, and it is not hard to see why.
A handful of Spanish artists also distinguish themselves in other musical genres that are worth mentioning here. What is interesting is that, in each case, these musicians are working from a strong base in Spanish music, even if they are transforming that received tradition. Anyone who follows Latin pop music has surely heard of David Bisbal by now. Bisbal's strong suit is rumba: not Afro-Cuban rumba, but Spanish rumba. For over 50 years, Spanish artists have taken Cuban son-inspired rhythms and melodies and fused them with flamenco, pop, rock and even rap. David Bisbal is just one in a long line of such artists. What is new is that he has teamed up with Kike Santander, a Colombian hit-maker and producer based in Miami, and has given this Iberian gift to pop music an international dimension that has taken the Spanish-speaking world by storm. Likewise, Amparanoia offer their own reinterpretation of this same Spanish rumba tradition, mixing it with Latin percussion and horns and the distinctive sound of the Cuban cuatro combined with "found" sounds layered into the mix.
Finally, Seville's own star rapper, La Mala Rodríguez, raps tales of contemporary urban life in Andalucia. What makes her uniquely Spanish is that she raps in the distinctive accent of Seville and utilizes the rhythm of flamenco tangos, which so permeates this city. From the evidence presented on the SGAE CD set, it appears that music in Spain is typically at its best when it draws on deep local and traditional roots, however those traditions are updated and made relevant for today's audiences.
Author:
Marie Jost
Marie Jost received her doctorate in art history from the University of North Carolina at Chapel Hill. She is a flamenco and world music aficionado, a Hong Kong film enthusiast, and an ardent Leslie Cheung fan. Ms. Jost currently resides in Chapel Hill, North Carolina, U.S.A.