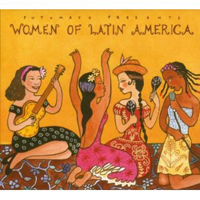 Various Artists
Women of Latin America (Putumayo World Music, 2004)
Putumayo World Music has captured the voice of Latin American women with its latest release, the aptly titled Women of Latin America. Eleven singers from Colombia, Brazil, Chile, Peru and Mexico, some internationally well-known and others newly discovered, are compiled on this CD. Each weaves together their own fresh interpretation with the rich musical traditions of their homeland, creating a new Latin American sound each in her own distinct voice.
Marta Gómez opens with
"La Ronda."
Based on a traditional Colombian children's song, it's anything but childish. Backed by an Afro-Peruvian lando influenced rhythm, Gómez's voice shines with her light smooth touch with the lyrics.
Brazil's Adriana Calcanhotto's sleek vocals in "Justo Agora" are enough to give Nora Jones a run for her money. Of course it doesn't hurt to have Moreno Veloso, Caetano Veloso's son, backing up on cello. Considered to be an emerging singing-songwriting star in Brazil and six CDs to her name, Calcanhotto is the next generation of Música Popular Brasileira.
The spare ballad, "India Song," features Chilean exile Mariana Montalvo's seasoned voice along with the familiar sounds of the South American cane flute or quena. The richness of Montalvo's vocals and sweetness of the quena create an eerily charming combination.
Another gem on this CD is Lhasa de Sela's "La Frontera." Lhasa's down-to-earth vocals turn this slow ranchera into something gritty and utterly unforgettable.
Each track just gets better and better with Jacqueline Fuentes, Mônica Salmaso, Tania Libertad, Susana Baca, Lila Downs, Belô Velloso and Totó La Momposina. This compilation delights and gives the listener a new take on the female voice of Latin America while still retaining the threads to the continent's past musical traditions.
Author:
TJ Nelson
TJ Nelson is a regular CD reviewer and editor at World Music Central. She is also a fiction writer. Check out her latest book, Chasing Athena's Shadow.
Set in Pineboro, North Carolina, Chasing Athena's Shadow follows the adventures of Grace, an adult literacy teacher, as she seeks to solve a long forgotten family mystery. Her charmingly dysfunctional family is of little help in her quest. Along with her best friends, an attractive Mexican teacher and an amiable gay chef, Grace must find the one fading memory that holds the key to why Grace's great-grandmother, Athena, shot her husband on the courthouse steps in 1931.
Traversing the line between the Old South and New South, Grace will have to dig into the past to uncover Athena's true crime.