Jamaica All Stars – Right Tracks (Passage Productions/Nighthawk CD 29006, 2004)
Version City Rockers – Darker Roots (Antifaz ATFZ-01CD, 2004)
These releases both offer a pleasing and powerful taste of what a number of longtime reggae masters have been doing lately, collectively and individually, to keep the classic Jamaican sound rolling mightily along.
The core members of the Jamaica All Stars– vocalist Justin Hinds, percussionist/vocalist Skully Simms, trumpeter Johnny "Dizzy" Moore and drummer/vocalist Sparrow Martin –have all been active since the first ska era, but they go back even further on some of the songs they expertly revisit on Right Tracks. Much of the overall feel comes from the mento and calypso styles that characterized early Jamaican popular music although the beat is recognizably reggae.
The opening "Revolution Rock" (which many may know from the Clash's remake) blazes the trail with its jumping rhythm, Latin-sounding horns and Martin's cheeky lead vocal. It's not all party-hearty, though. Spirituality and defiance mix it up on vintage tunes like "On the Last Day" (voiced with familiar brilliance by Hinds), "See Them a Come" and "Armagideon" while the instrumental pieces in particular show the perennial influences of jazz and r&b.
The whole disc comes across like something of a small scale Jamaican musical history lesson. It's a musical history in which infectious rhythms mix seamlessly with social commentary ("Linstead Market," "Army Man") or pure fun ("Shake Sinora"). Light and breezy one moment, rough and conscious the
next, Right Tracks is an essential work by an exceptional group.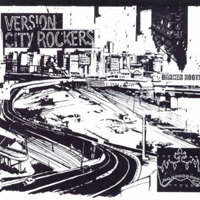 Version City Rockers may be the name above the title, but Darker Roots is a various artists compilation on which the loosely-knit U.S. East Coast band provides unfailingly solid backup. And what a group of various artists they're laying it down for– legends like Yabby You and Cedric Brooks are here, as are seldom-heard-from greats like Sister Nancy and Little John. The homegrown U.S. reggae scene has been strongly entrenched in New York City since the '70s, when studios including Bullwackies were channeling Jamaican roots under the guidance of such yardies as Sugar Minott (also represented on Darker Roots).
The stunned and saddened mood that hung over New York City after 9/11/01 was expressed in much of the music produced there immediately after and it's that vibe which pervades here along with the militant spirit that stoked reggae's flame in the pre-dancehall era. It's a glorious disc from beginning to end.
"Let's Live Love" urges Glen Brown on the opening track, followed by proclamations of strength, faith and unity like Ronnie Davis' "Sing and Pray to Jah," Ranking Joe's "Africa" and the burning conclusion "Why Dem a Galong So" by Congo Ashanti Roy. This is reggae equal parts classic and contemporary,
hands-down fabulous when considered either way.
Author:
Tom Orr
Tom Orr is a California-based writer whose talent and mental stability are of an equally questionable nature. His hobbies include ignoring trends, striking dramatic poses in front of his ever-tolerant wife and watching helplessly as his kids surpass him in all desirable traits.